Auckland's latest course caters for all levels of player and provides some stunning views of the Hauraki Gulf.
Waitawa Regional Park is one of the newest Regional Parks in Auckland, New Zealand's largest city. Purchased by the Auckland Council in 2004, the park remained leased to the previous owners for some time as plans were made for the park.
The main focus of use for the park was to be recreation and Auckland Disc Golfers were pleased to see our sport added to the equation along with mountain biking, horse riding, kayaking and several more fun pursuits.
Check our dedicated page to the Waitawa Regional Park Disc Golf Course.
Pae o te rangi Campground, 114 Te Henga Road, Bethells Beach, Auckland.
Another fine Simon Feasey designed course has opened in Auckland continuing the momentum of Disc Golf Courses on Auckland Regional Parks. Whilst not officially open, the baskets are in so you can check it out now.
Check our dedicated page to the Bethells Beach Disc Golf Course.
A fun 9 hole course in the city.
This course was opened in 2014 and is Auckland's first 'in the city' disc golf course with permanent baskets - hopefully this is a sign of the times as the sport of disc golf is becomin ever more popular in New Zealand and world-wide.
Whilst it may look like a nice easy flat short course, it is well designed and still offers the seasoned player a challenge.
Check our dedicated page to the Henderson Park Disc Golf Course.
WOODHILL FOREST DISC GOLF COURSE
Check out our dedicated page to this great area that holds multiple courses thanks to the tireless efforts of Haydz and crew.
Normally known as the home of many kilometres of mountain bike trails, the guys at Woodhill Bikepakr have caught the disc golf bug and have built a few cool courses for you to try out - no charge! You can hire & buy discs at the Bikepark shop as well as refreshments. And don't forget to take your bike!
Check our dedicated page to the Woodhill Forest Disc Golf Course.
WAIHEKE ISLAND
CONTACT: (09) 372 3315, 021 250 2786
ONETANGI SPORTS PARK - [18 baskets]

As of 2007 (yes 2007!), the Waiheke course remains Auckland's only basketted course (shame on you councils!), Being basketted means the challenge is always there regardless of what discs you use and, combined with the great atmosphere of this great island in our harbour that is only a 30 minute ferry ride away, certainly worthy of a visit for a round or two.

You can get a high res jpg of the course map by clicking here (opens in new window: 170kb)

In the shadow of the pa atop Rangihoua hill, surrounded by the Whakanewha Regional Park, Onetangi vineyards and golf course, lies the idyllic setting for the Onetangi Sports Park.

Including tennis courts, rugby, football and cricket grounds, the park also boasts two fully basketed 18 hole Disc Golf courses.

The Old Course, established 2000 is 1269 metres, course record 40. It is short but varied and demanding and has hosted a number of competitive ,enthralling tournaments in the past. Mighty Marty de Haas holds the Waiheke title from 2006. It suits lefties. Check out the 115m twelth and TD Brett's amazing ace on youTube!... click here

The New Course, established 2006 is approx 1800 metres, course record 53 (at time of printing). Still under development the course is top secret and may be revealed during 2007 tournament play. It suits locals.


Spanky contemplates a round gone bad whilst enjoying the vineyard views.

Facilities

Open sunrise to sunset 365 days of the year!
Changing rooms, toilets and showers available at pavilion.
Park also includes free BBQ facilities.
Supermarket Woolies 3 min drive
Auckland's best beaches 5 min drive

Transport

Passenger. Arrive at Matiatia then catch bus to Rocky Bay, alight Onetangi Sports Park. Fullers http://www.fullers.co.nz/
Car ferries. Arrive at Kennedy Point then 5 minute drive. Sealink http://www.sealink.co.nz/ Waiheke Shipping http://www.waihekeshipping.co.nz/ or come by your own steam and pull out at the Whakanewha camp ground!

Accommodation

...aplenty for all tastes and budgets, check it out at justwaiheke.co.nz
Highly recommend campsite at Whakanewha Regional Park, you should book on the arc website
Good facilities, free BBQ etc.
Beautiful foreshore, walking tracks, native bush and wildlife.
Just 5 minute drive or 20 minute bike from Disc Golf venue.
Weather guaranteed!
MONTE CECILIA , Hillsborough, Auckland.
The course below is an object course and unmarked .. to play this course you will need to 'contact a local' to be shown your way around or just hit the park and make up your own course.
A wonderful new Disc Golf venue in the town where the sport was established in NZ in the late 1970's.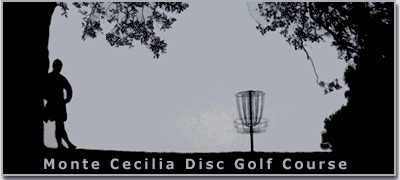 Monte Cecilia Park Disc Golf Course was designed and installed for the 2005 New Zealand Disc Golf Nationals by Bob and the legendary mexican Juan Unda. This course has a bit of everything, including the largest stand of Northern Hemisphere trees in the country (please respect that this is a special place for all kiwis). For a course description and some pics, click here.
---
ONE TREE HILL, Greenlane Road West, Auckland.
The courses below are object courses and unmarked .. to play these courses you will need to 'contact a local' to be shown your way around or just hit the park and make up your own course.
Where Disc Golf was established in NZ in the late 1970's.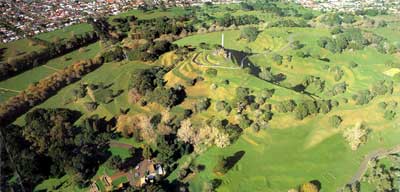 One Tree Hill/ Mangakiekie - a beautiful park in the heart of New Zealand's largest city.
The Cornwall Park Trust management and the ACC have been propped numerous times, but as of yet still no permanently marked courses exist on the hill. The official word is; we're welcome to use it as we have for the last 25 years and permitted to install temporary baskets for competitions but that's as far as we've ever got with the powers that be. So sadly if you want to play on an existing course on One Tree Hill you need to play with a local the first time.
THE PAINTERS COURSE...[18 objects]

The course played most often on One Tree Hill. One par 5 and 2 par 4's make this a testing par 58. Great use of the many elevations but not too long. Not necessarily a good beginners course although many have cut their teeth on it. There are some very interesting targets, e.g. landing inside a stump, into a trough and more unique challenges that make the Painters 'The Painters.'

---

THE CRATER COURSE...[18 objects] National Tour course.

The Crater was established in the late 80's by a bunch of young fit Freaky Styley men with knees that worked well. Over the last few years the course has been refined and extended for the annual 'Crater Cup' event, with a new title of The Greater Crater. It's a tough and testing course that on a windy day can see you with 2nd and 3rd shots that need to be twice as long as your tee shot! The elevations are huge and if you're not in the fairway then there's every chance you're 200 feet down a crater! Add the treacherous terrain to the numerous long holes and you'll understand why I don't recommend taking a beginner up this course, there's every chance that after walking 8k up and down, they won't deem it an enjoyable experience.


What a view! The Scarb lets rip on the 5th of the Greater Crater

---

THE ELEVATOR COURSE...[18 objects]

The Elevator is the most recent addition to the One Tree Hill circuit thanks to the keen efforts of leftie dutchman Marty Pants. This Freaky Stylist created some very interesting holes and targets for the lads and the lads liked it. Incorporating some of the Painter holes and some of the Crater holes, this course incorporates the challenges of both, bt with some new twists. More often, the lads will be seen playing the shorter Elepainter course which stays on the southern side of the park. With the help of his golfing idol, Juan Unda, Marty has refined the Elepainter so that if they have a basket handy, they can use it for a total of 6 of the 18 holes - cool!


The Grand Master fires one into the sun on the Elevator 7th

---

THE FRONT COURSE...[18 objects]

The original Cornwall Park course. Short and sweet but rarely gets played these days as this area of the park has become well populated with the 'family day in the park' visitors. During working hours and in inclement weather you can get around with out too many interruptions but forget it on a fine weekend.

---

THE DOUBLE B...[18 objects]

This course was set up in '95 for a tournament and still gets the occasional group keen to take it on. The prevailing wind can affect the 'Olive Grove' area of the park and the weekend park users often make this not ya best pick of courses to play, but if you get the chance have a local to take you round, it's a good test. Affectionately named after the two designers Bob and Baz.

---