Tucker Beach Disc Golf Course, Queenstown 30th - 31st July 2016

Tucker Beach "RUSH" disc golf tournament – **C TIER**
The Queenstown disc golf club are ready to host its second annual tournament of the year. The Tucker beach 'Rush' is set to return to the Wakatipu basin, and we are ready to showcase this beautiful part of New Zealand to the world.
A solid long game is still required but those soft finesse shots will be required also.
TD Hemi Te Awhitu
EVENT PRICE
$30 Queenstown disc golf club members if you pre register
$35 pre registration (closes Wednesday 27th July)
$40 on the Day
Registration includes
– Lunch on Saturday and light lunch on Sunday
– Hot tea and coffee
– Trophies in 6 divisions
– prizes for placings in all divisions
Please direct deposit your payment to the Queenstown Disc Golf Club bank account:
Acc. Name: Queenstown Disc Golf Club
Bank: BNZ, Queenstown
Acc. #: 02 0948 0195770 00
Particulars: Your name      Reference: TB 2016
DIVISIONS
– Mens open, Mens masters, Mens grand masters, Mens senior grand masters, Womans open, Under 18.
– Normal PDGA rules apply during the tournament, and local rules will be announced at the players meeting.
EVENT SCHEDULE
FRIDAY 29TH JULY
3.30pm Casual round at Gardens course
SATURDAY 30TH July
8.15am Registration at centre of the Tourney HQ
9.00am Players meeting
9.30am TB Rush round 1(TD draw)
12.30pm Lunch (more food options 10min drive)
1.30pm TB Rush round 2 (TD draw)
SUNDAY 31ST July
9.00am Players meeting
9.30am TB Rush round 3 (seeded)
12.30pm Lunch
1.30pm Super 6
Followed by prizegiving.
All efforts will be made to keep this tournament to schedule.
SMALL PLANET DISC SPORTS will have a great selection of discs for sale over the weekend.
To register, check out the Queenstown Disc Golf website here.
The Pictures
Check out these pics from the 2016 NZ Nationals held at Tucker Beach.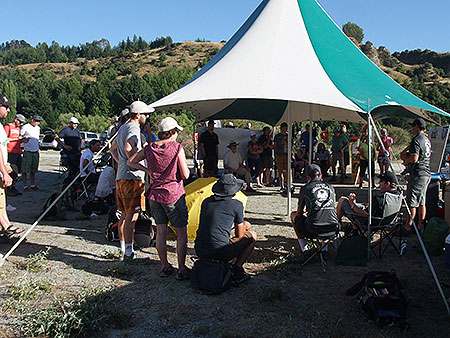 Chrysler V8 -TD Hemi Te Awhitu welcomes the players to Queenstown.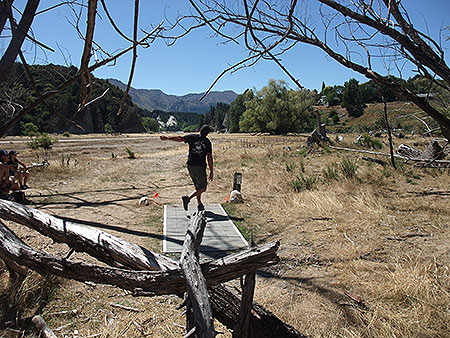 Tourist Director - Always a big ask. TD Hemi Te Awhitu ran and played the event.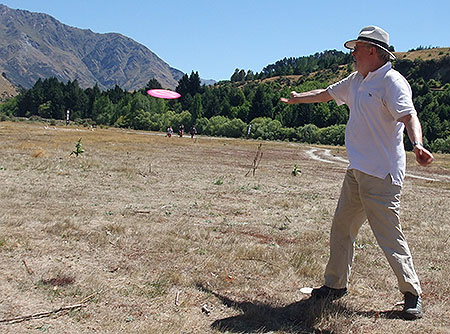 Staying cool - Paul Deacon, a Christchurch regular playing his first Nationals.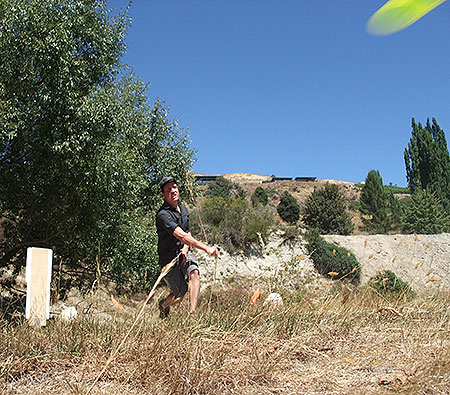 Duck - David Rose (Christchurch) does his best to take off the photographers head.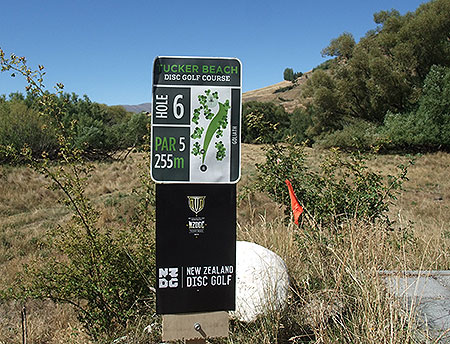 Where's David? - The raised Tee on the 255 metre Goliath.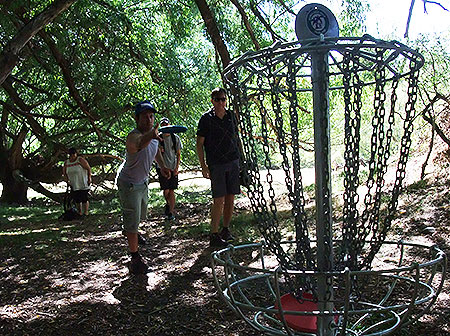 Under pressure - Te Ngaru Grant (Wellington) putts out under the pressure of his playing partners stare.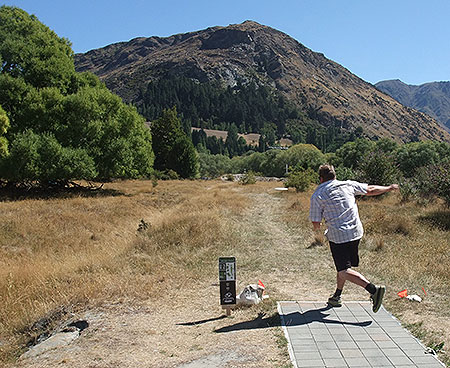 Down the guts - Christchurch mover & shaker Chris Davies gives it heaps on hole 2.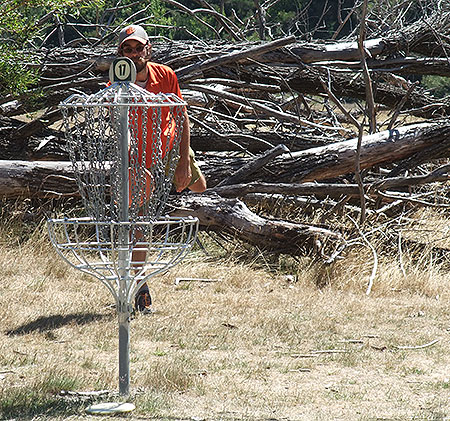 xxx - Visiting US Disc Golfer Joshua Martin slams his putt into the chains.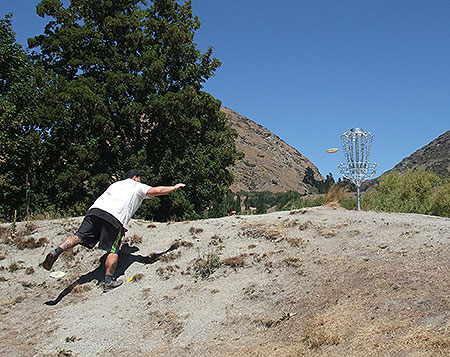 Dead eye Jacko - The Levin Brotherhood's Jacko Sullivan played consistent golf all weekend.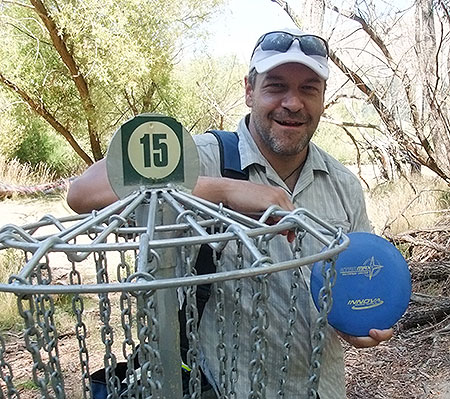 Ace - An ACE on 15 saw a rare smile on Mario Cernair's face as he laid a claim to a third of the ACE kitty on offer.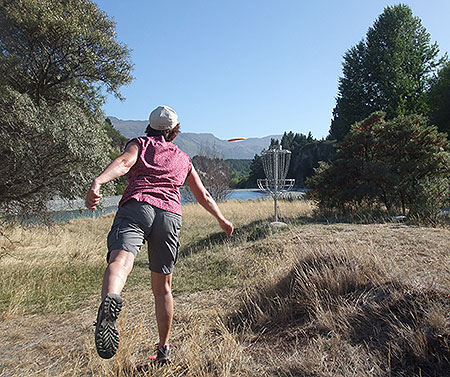 The Ming Dynasty continues -Tauranga golfer Ming Menzies plays out 12.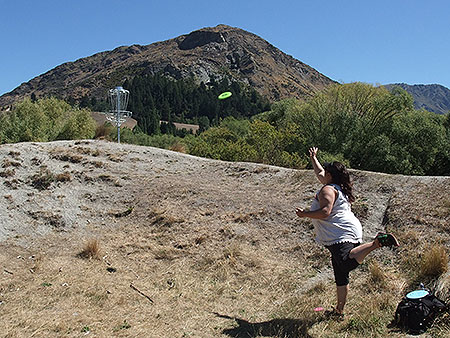 Chip n chase -Wellington golfer Liz Moka lays up the tricky hole 2.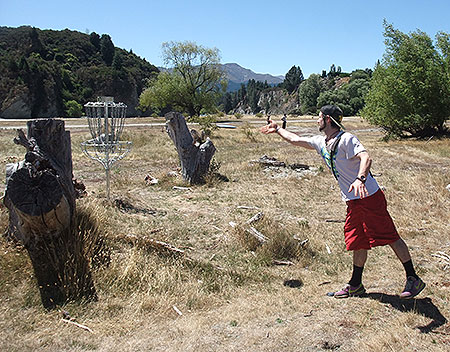 Stumped - Brandon Ferrari (Queenstown) finds the open approach to his putt on 10.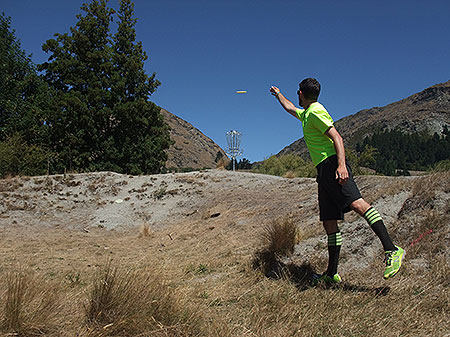 A fine round - Brady Kuech on his way to a 3 shot lead after the first round.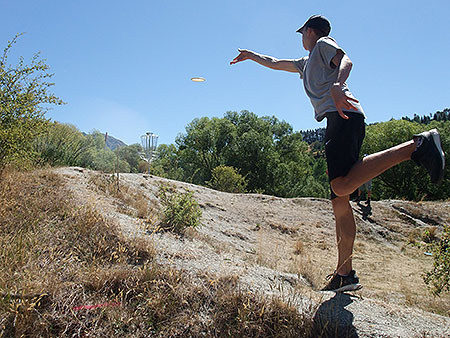 Old hand - Playing Open for the first time 17 year old but at his 17th Nationals Toby Gentil attacks the trick pin placement on 2..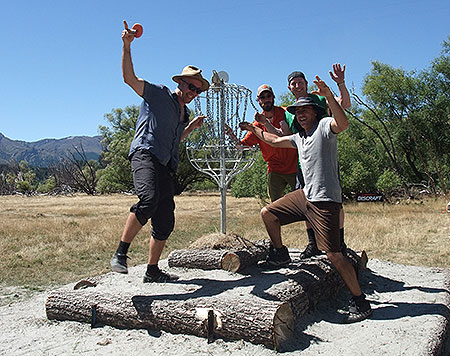 Rattle me chains - What ya do when you get a star frame 2 ... according to Moe ... rattle the chains.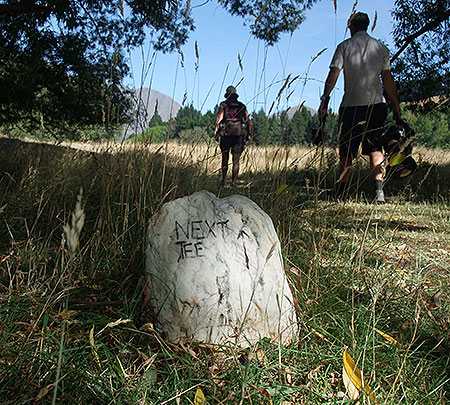 Lord of the Kachings - The course was really well marked.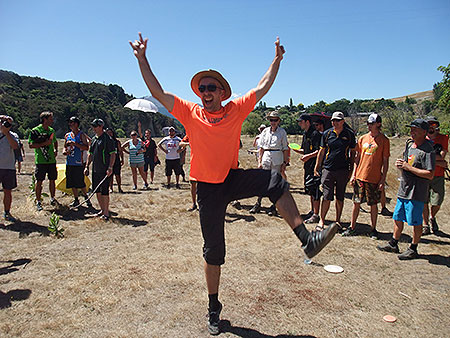 Glücklich Kap - It's a German thing. Moe Doerken shows what you do when you pull off a come from behind win.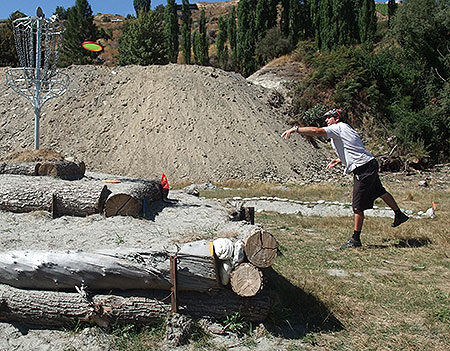 Och aye - With a disc in his hand and the hip flask at the ready Roddy McKay was a happy man.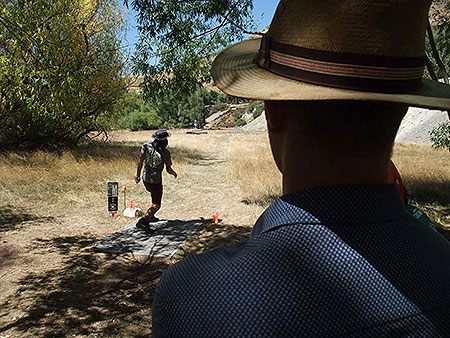 OB wan kemoebi - Moe Doerken keeps an eye on Ben Thomson (Wanaka) as he does his best to avoid the OB on 7.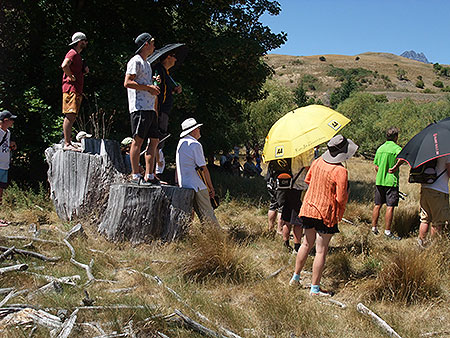 Elevated status -The big gallery take up positions in the grand stand for the 'Super 6' final safari holes.
back to topThe Results for 2016 Tucker Beach 'Rush' Disc Golf Tournament
Tucker Beach Disc Golf Course, Queenstown 30th - 31st July 2016
Who will it be?