And in 2017 a permanent disc golf course became a reality in Invercargill. Complementing the growth of the sport in the South Island Disc Golf South President Martin Conway and friends worked hard to make this happen and now we are seeing this location on the New Zealand Disc Golf Tour. Regular Kiwi disc golfers would know that Martin Conway comes from one of NZ's famous disc golfing families, being the son of legendary Bay of Plenty disc golfer Ming "Kaching" Menzies and the mighty Mick Conway. So you can be sure that - although short - this course will have some great challenges for any disc golfer.
QUEENS PARK DISC GOLF COURSE
A short compact course suitable for beginners, but challenging enough for experienced players.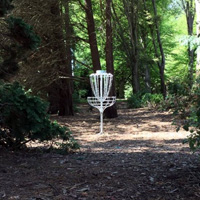 The first tee can be found just inside the Herbert Street entrance - 124 Herbert Street, Galdstone, Invercargill 9810, New Zealand. Parking is available on Herbert St.
18 holes, fully basketted, brick-type tees, flat terrain, approx length: 1.2km
Discs can be hired from the Herbert St Store across the street but are also available for sale at various stores in Invercargill.
Contact is Jonn Ferrari: discgolfsouth@gmail.com.