Rugged mountains, majestic lakes, crystal clear air, and just so much to do. From bungy jumping to wine trails, jet boating to tramping, dining out to skiing, the tricky part is extending your stay to try and fit everything in.
Note: Queenstown Disc Golf now has it's own website! Check out www.queenstowndiscgolf.co.nz and here's their Facebook page which is always up to date with events and going-ons.

The course traverses anti-clockwise around the well established Queenstown Gardens. All targets are chain baskets. About half the holes are in the more open areas, with mowed grass underfoot, and the other half are in a pine forest, where the ceiling is low. It is a relatively short course, at 1220 metres (4000 ft). There are four par 4 holes, with two of these being over 100 metres. Two holes have compulsories and two others are blind, requiring spotters before driving. Overall the course favours right handers. It is free to play on the course.
---
This course was established in 2012, and, at the time of writing in May 2014, is about to increase its number of baskets from 6 to 12, with 18 being the goal in the near future. The remaining targets are green plastic PVC pipes with black strips. It is a figure 8 course, going anti clockwise then clockwise around the Tucker Beach Recreation Reserve beside the Shotover River. The course is relatively long, at 1928 m (6325 ft), with five holes over 122 m (400 ft), including a par 5 at 255 m (837 ft).
---
Here is some older stuff we had on the great story that is Queenstown Disc Golf
Queenstown Gardens - 18 objects (fully basketed) - A National Tour course.
I love this course…this has got to be the most beautiful place for a Disc Golf course in the world. Big claim I know but wait 'til you see it. The course is very much a pitch and putt with most local players using ultrastar type discs, which is probably a good thing as being right in the centre of town this park can get busy (so as always: give way to punters). There are a few 'interesting' tee positions and a couple of the proverbial 'barn door' type of targets but a must to play if you're in the neighbourhood. The course is well marked and maps/scorecards are available from the local sport stores.
Paradise, Glenorchy - 18 objects - A National tour course.
If you love the mountains, cool fresh air, virgin beech forest and the whole alpine thing, you'll love this course. It only gets played once a year as part of the Queenstown round of the National Tour but it shouldn't be missed. The setting is fantastic, in fact so good Peter Jackson used it for one of the scenes in the 'Lord of the Rings' trilogy. Since the fences were taken out and the stock removed it gets a little overgrown in summer and the Matagouri trees can cause some problems but the scenery makes it just too good to miss.
Links: www.queenstownnz.co.nz
---
Some Background Details of James '' Jaguar " Smithells
James '' Jaguar " Smithells was born in Dunedin in 1951, the middle son of Philip (PAS), founder and long time Professor of the Otago University School of Physical Education, and Olive, an occasional lecturer at OUSPE. I was conceived in the outdoors, with sport in the blood. And the Smithells brothers competed at everything! We had access to all the OUSPE equipment, so played just about every game that ever existed, and particularly loved ball games. I recall seeing a Frisbee flying for the first time in the late Sixties, and being mesmerised by the way it flew, so much more gracefully than a ball. They were almost impossible to buy, however I finally managed to get my first one in 1972. Throw and catch rapidly became a favourite passtime, with the perfect flat throw and tricky catches being the focus.
I don't recall when I first heard about disc golf, but Mike Higginson and I started playing it in Woodhaugh Gardens in Dunedin in 1976, the same year Bob Gentil started in Auckland. We used World Series 141 G's, which were superbly behaved discs, but unfortunately are unobtainable these days. We made up the holes as we went, which often involved one compulsory after another, often taking turns to nominate the next shot. This was both great fun and good competition, which of course it remains to this day. Mike went to Nationals the following year or the one after, which was my first inkling of the bigger scene.
During my four years OE I played a lot of golf in Denver, where we pioneered two set courses in Cheeseman Park and Washington Park. Golf aside, everywhere I travelled I found frisbees to be an international passport to friendship. In Asia we would start throwing in a small village, the children would quickly gather to watch, the bolder ones would then ask to join in, we'd teach them the basics, and suddenly all the children were playing, with adults gathering to watch, smile, and often participate.
My first game on a recognised course in New Zealand was at Cornwall Park, where I also discovered golf discs for the first time. Not that I could make them fly! I then attended my first Nationals there in 1991, three months after having bought my first Cobra. A whole new world opened up to me, and I met people from both the Ultimate and Disc Golf fraternities who remain friends to this day. On a personal level I was also very pleased to get third in the Masters division, a place I tended to occupy over the following years. The players from the rebel/splinter Tauranga Disc Golf Association (TDGA) particularly inspired me, with their great courses and brilliantly organised tournaments e.g. chilibins in the trees, lunch and barbecues provided.
In 1994 I was visiting Queenstown in preparation for moving there, when I was very pleasantly surprised to discover that there was an excellent disc golf course there! It particularly suited my style of play, which is more short range and accurate, rather than the long, big-arm, open style. Which is where another big story begins, shortly.
Favourite discs these days remain 71s for putting and shorter approaches, Aviars for longer approaches, and Eclipses for driving. Naturally I have other discs for more hard turning shots, and a treasured UV 86 Softy, for bending around corners. I won this in Tauranga, in the one and only tournament at which I ever managed to beat all the big guns.
Favourite shots include the legendary 300 metre downhill drive at the old Hills course in Taumaranui. This was actually meant to curve into the target halfway along the trajectory, but who cares when a disc goes that far? And heaps of people saw it!
Another favourite was acing the pole hole on Giant Slalom in my first throw of the Queenstown Classic several years ago, getting stroboscopic images of the disc turning through the compulsory then arcing back behind the giant conifers, culminating in KACHING!!!!
As for the Jaguar nickname, this idea came from Tiger Woods' rise to fame, and the Queenstown crew and friends decided to adopt either feline or canine nicknames, purely as something fun e.g. Andy "Cougar'' Cooper, Chris "Dingo'' Davies, Penny "Panther" Jackson, Neil "Hound Dog" Hardey, Bob ''Polecat" Gentil etc. The most memorable incident with these names occurred on the bridge over the lily pond in Queenstown, when Andy was preparing for the challenging tee shot, just as a group of older people started to walk onto the bridge. I said '' Stop and watch. Andy "Cougar'' Cooper is about to tee off! '' Andy proudly stepped up to the mark, focused, and nailed his first ace on this formidable hole! Everyone was suitably impressed.
---
History of Queenstown Disc Golf
1. Creation of the Queenstown Gardens course.
The original course in the Queenstown Gardens was set up on a casual basis in the early 1980s by a group of raft guides and friends, including Rolf Liechti, Mark Gabites, and Bruce Grant. They used to leave their frisbees in a neighbouring garage, which eventually became a sort of club house. The course was noted for its beautiful setting, its many compulsory shots, and the wide range of targets. The sport grew in popularity and so the tee areas were demarcated by black pegs in the ground.
When I moved to Queenstown in 1994 I decided that the Gardens course would be an ideal venue for a tournament, a la the TDGA events. Several other players were keen on the idea, so I approached the Queenstown Lakes District Council (QLDC) to request permission. The community development officer at that time was Derek Stewart, who actually played disc golf in the Gardens, despite being in a wheelchair. He suggested that we also requested permission to permanently mark out the course, both so that people would know where it was, and to avoid them playing just anywhere. We jumped at the opportunity! This was to become the first permanently marked out course in New Zealand.
Andy Cooper, Chris Davies, Dave Laurent and I were the main people involved, with Chris Streat also assisting. An enormous amount of time and energy was put into the project e.g. seeking sponsors for each hole, raising money for tee markers and hole markers, asking favours from local businesses, designing scorecards and maps, creating signs, and of course actually laying it all out.

We had to almost totally redesign the whole course, in order to minimise the likelihood of adverse interactions with both the physical environment e.g. vulnerable flowerbeds, and other users of the Gardens e.g. no more seats as targets! New holes were created, old ones vanished, targets and tees changed, compulsories were eliminated, until we thought we had it just right. We tried to keep as much of possible of the original course, including names of holes, but little has remained the same. Windy Way, Big Stone, Visiting Bruce, Around the Outside, Pathfinder, and Hole in One remain most true to the original design.
The course construction was completed in time for the first Queenstown Classic Disc Golf Tournament, which took place in 1996, with the course boasting its first pole hole, generously donated by Bob Gentil. Mayor Warren Cooper threw the first disc to officially open the course (it turned over and landed in the lily pond!). Ex-world champion Peter Bowie attended the event and took out the Open title in fine form, including nailing throws on some holes which we had never dreamed of and/or dared to attempt. Local businesses had been extremely generous in donating prizes for the event, and indeed their generosity continues to this day. First prizes were fly-cruise-fly scenic trips to Milford Sound. Superb trophies were created by Dan Kelly, brother-in-law of the late Bruce Grant.
2. Bruce Grant.
Apart from being an early golfer in the Gardens, Bruce was also a world class climber, parapente pilot, and downhill skier, representing New Zealand at the Sarajevo Winter Olympics. A famous Gardens story about him occurred following Mini hurling a huge throw and landing his Aerobie high in a pine tree. No one dreamed of getting it down, but to everyone's astonishment the next time they saw it it was significantly higher in the same tree! Bruce had climbed the tree with the aid of crampons and an ice-axe, and hung it high up as a permanent feature. It's still there to this day.
Some years later Bruce achieved his life's dream of climbing " the savage mountain '' K2, but he and all those who summited that day perished in a violent storm on their descent. The impressive and weighty trophy for the Ultrastar/Local division of the Queenstown Classic is the Bruce Grant Memorial Trophy. A permanent memorial, also created by Dan Kelly, of a forearm with ice-axe, adorned with meaningful words, rises out of the ground by some boulders, beyond the pole hole target on Visiting Bruce.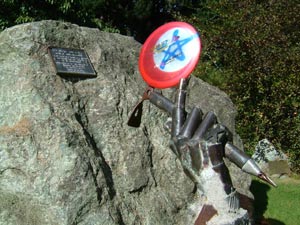 Visiting Bruce - a memorial

3. Wakatipu tournaments.
Buoyed by the success of both the 1996 then the 1997 Queenstown Classic events, we (Andy, Chris, and I) offered to host the 1998 NZFDA National Disc Golf Championships in the Wakatipu. This was a considerable undertaking, but in the end we accomplished it in style. Players travelled from all over the country and a good selection of locals turned out.
The format started with The Helicopter Line Queenstown Classic (36 holes of singles), was followed by 72 holes of National singles, and finished with the inaugural Nationals doubles event (36 holes). There were certainly a few tired arms after 144 holes! The first 36 holes of National singles was held at the new Paradise course past Glenorchy, a simply stunning setting. (This was pioneered by Andy Cooper, Neil Hardey, Dave Burtenshaw, and myself). Pub Charity funding allowed us to hire a bus for the day, a memorable experience in itself.
Following the success of the Paradise event, in 1999 we held the inaugural Dart River Safaris Paradise Plates tournament there, as a companion tournament to the Queenstown Classic. The format for this has remained 18 holes of doubles followed by 18 holes of singles. Chris Davies' father made the trophy Plates. Spending a night or two in the beautiful Paradise setting has become part of the special nature of these Wakatipu golf weekends.
We have also held doubles events in the Queenstown Gardens, as part of Winter Festival, on most years.
In 2005 we celebrated the 10th year of The Helicopter Line Queenstown Classic, and created a special T-shirt with a mountain/lake/helicopter/disc logo on the front, and the Paradise logo on the back (naked frisbee throwers covering their lower regions with discs/mountain/cabbage tree/vortex sun).
In recent years Lee Eliott and I have been the main organisers of these Wakatipu golf weekend events.
4. Development and the future of the Queenstown Gardens course
Once the course was permanently marked out, and people passing by could easily buy a scorecard, map and frisbee, playing golf in the Gardens became an extremely popular passtime. It was novel, fun, inexpensive, and played in a beautiful setting. Further popularity was added by occasional exposure on television. On a sunny summer's day over a hundred people were likely to play the course.
However this popularity produced unforeseen consequences. Tee-off areas started becoming worn bare of grass, so we created tee pads, made from paving stones generously donated by Fulton Hogan. Some environmental damage began occurring, so we made literally dozens of extra fine tuning changes to tee and hole locations, and bought more pole holes in order to have targets in just the right places. Very occasionally there were complaints about inconsiderate players interfering with other users of the Gardens. We therefore created a new sign, aimed at encouraging people to respect both the physical environment and other users of the Gardens.
Matters came to a head in 2002 when several members of the QLDC tried to get the course removed from the Gardens. Apparently there had been complaints about the behaviour of some players, particularly around the lily pond. This was a major challenge, and it took a lot of political lobbying and consultation to avoid losing the course altogether. As a compromise we agreed to remove the three popular holes from around the lily pond, and created three new holes; Puzzled Monkeys, Southern Exposure, and Bead Me Up.

Players were encouraged to either talk with or report anyone behaving irresponsibly on the course, and the Queenstown Tennis Club offered to monitor the course for us. In 2005 the QLDC provided us with a new sign, complete with a map of the course and advice that the course was being monitored.
It is extremely important that people playing disc golf in the Queenstown Gardens continue to respect both the physical environment and other users of the Gardens. If further problems occurred we could again face losing this very popular course.
NEVER throw your frisbee/disc if there is any chance that it might hit someone. Either guard them, wait, politely ask them to move, choose an alternative target, or play that hole later.
5. Sponsors
The Mount Cook Line sponsored the first two Queenstown Classic events, with The Helicopter Line having been the key sponsor of this event for the last eight years. Helicopter flights are provided to the winners of each division, all flying in the same aircraft.
Dart River Safaris have sponsored the Paradise Plates events, with the two winners of the doubles and a selected winner from the singles divisions winning spectacular Dart River Safari jet boat trips.
Local Queenstown businesses have always been extremely generous in providing prizes for the Queenstown Classic event. They are too many to name individually, but have included bungy jumps, parapente, hang-gliding , and fly-by-wire flights, canyon swings, and jetboat and rafting trips.
Lunch is always provided at the Classic, and the Mediterranean Market provides us with free fruit for this, along with Subway providing us with a free 6 ft sandwich.
If you have one or ever won a prize at one of these tournaments, please make every effort to thank the sponsors and say that you won the prize at the Frisbee Golf Tournament, along with recommending their products to your friends. If we look after them they will hopefully keep looking after us.
For further information, please contact or 021 26 44 008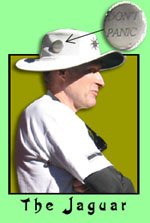 He's responsible for much that we enjoy disc golf-wise in Queenstown. Drop down to read more about this amazing fellow and the history of Disc Golf in Queenstown here
---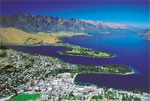 Beautiful Queenstown
---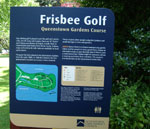 The fabulous new sign at the start of the Gardens course.
---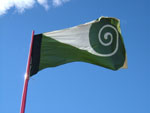 The flag's up - that means there is a disc golf tournie in session at Paradise!
---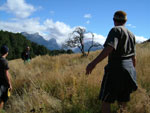 A classic Paradise target.
---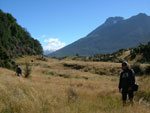 Speechless. Bloody speechless.
---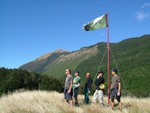 The traditional flag denoting a game at Glenorchy.
---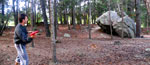 Multi-National Champ Simon Feasey attempts a forehand at the Gardens.
---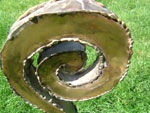 Even the trophies are spectacular!
---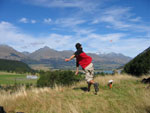 One-time world distance record holder Ken Jarvis now lives in Queenstown and usually takes out the tour event.
---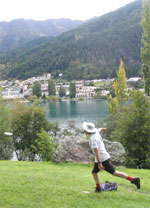 The Jag lets loose on the Gardens' compulsary - what a place!
---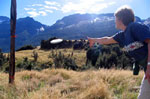 Another lovely day in Paradise. Lee putts in the 2005 Classic.
---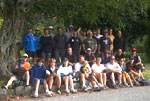 The Queenstown tournaments attract quite a crowd these days. Great fun!
---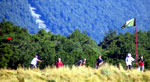 After the tribute to the flag, the Beast drives towards the second half of Paradise.
---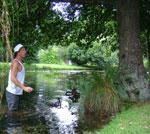 At the Gardens you can get wet if you really want that birdie!
---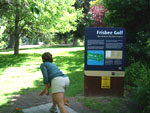 The Gardens course attacts players of all gender, colour and abilities.
---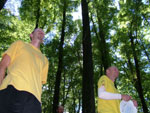 Sam and Dave enjoy a summer's round in the shade of mighty pines.
---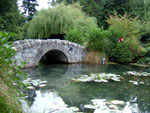 Beautiful Queenstown Gardens.
---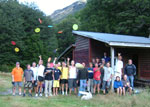 Happy golfers celebrate another perfect day at Paradise.
---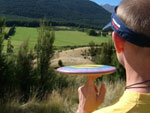 Sammy takes an extraodinarily long time to enjoy the view..!
---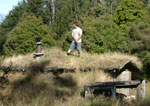 Simon Feasey and the Paradise Sauna.
---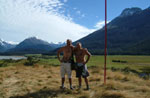 Mate in Paradise. Bob and Arthur the friendly tatooed Dutchman.
---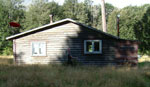 Drew putts from in front of Paradise Disc Golf HQ.
---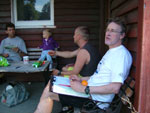 The Jag organises another successful tournament. Good onya Jag!
---