Te Papa, New Zealand's national museum is on the waterfront. Walk to Te Papa from a central city restaurant and stop at a local fashion store or an art gallery on the way.
The South Coast is one of Wellington's most beautiful places. Visit the New Zealand fur seal colony or just watch the waves. Mountainbike through native bush at Makara Peak, or kayak out to Scorching Bay – the choice is yours.
Hikoikoi Reserve, Petone - 9 basket course on the waterfront.
Click here for our Hikoikoi Reserve Disc Golf Course webpage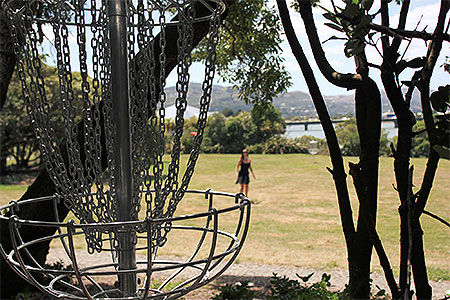 Ahhh...baskets. Wonderful.
Berhampore Hills Disc Golf Course - 9 basket course around a ball golf course.
The course is only 4km from the central city, on the edge of the Town Belt, next to Wakefield Park, Berhampore.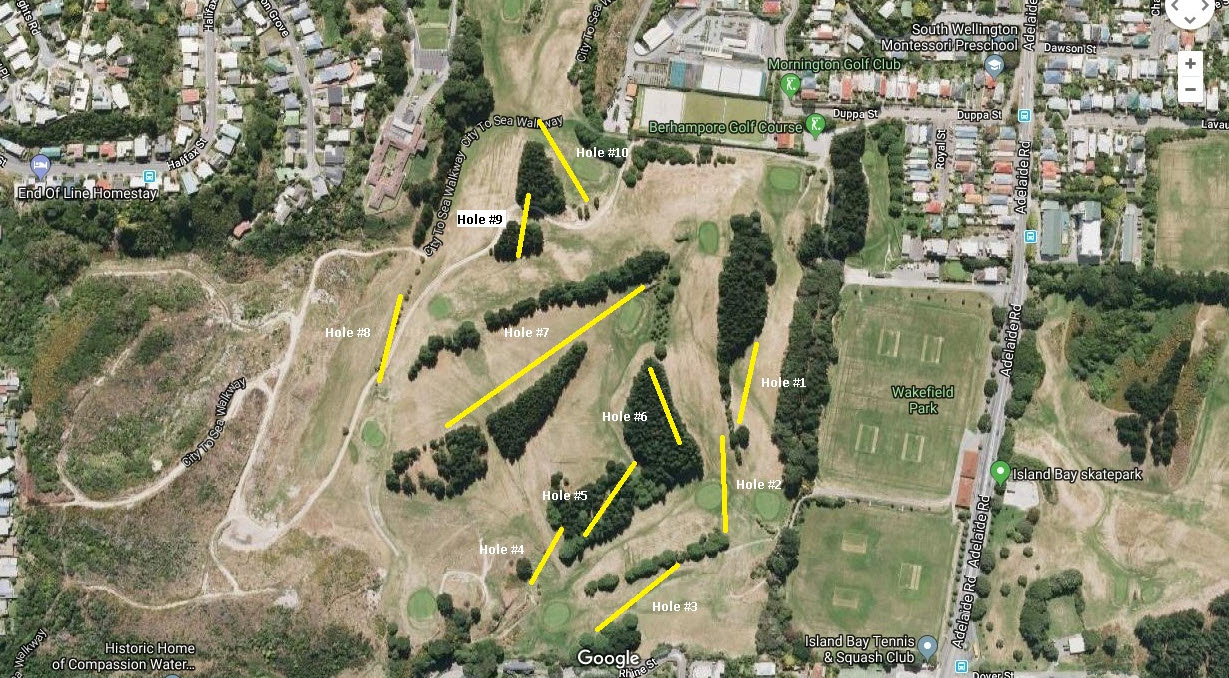 Click on this image of a basic map to download it (300kb, opens in new window).
Harcourt Park, Upper Hutt - 9 baskets 18 Tees. A National Tour course.
Click here for Google Map of Harcourt Park (opens in new window).


Click on the image to open a big version of this map for printing

Great use of a small park. The two tees for each basket works real well; pretty much 1 through 9 is quite different from 10 through 18. A great course to introduce someone to the game for the first time. This course is a lot more about placement than length, someone with a medium drive but good accuracy should be able to compete with a long driver.
Special acknowledgement to Mark Dakiv, the fine young Canadian who lived in New Zealand for some time (and travelled back to Canada to take his own National title) and spent many hours lobbying the local council and securing the support of local residents and schools to make this Disc Golf Park a reality. Mark is overseas again along with previous contact for the course Dylan Cooper has been pleased with the new life the sport has enjoyed in our capital lately thanks to an energetic group of regular players. They have doing a sterling job keeping up the profile of the game including the all new course at Hikoikoi Reserve, Petone..
Click here for a 2Mb PDF version of the Harcourt Scorecard
The Alternative 18
When the NZ Tour comes to Harcourt Park, some of the tee positions are moved back and the course takes on quite a different light.
Many local players enjoy playing the 'Fault Alt' and we can share that course with you via this map (thanks to John Lee).
Click here for PDF map of the Harcourt Park Alternative Course (this is a 2.16Mb PDf file, opens in new window)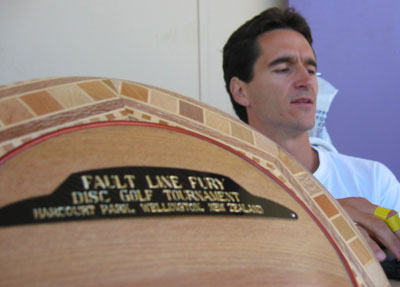 The man to thank for it all
Harcourt Disc Golf Park's creator Mark 'Knuckles' Dakiv.

The Faultline Fury is now an annual tournament with a fabulous trophy.
---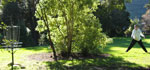 A great way to start the day.
---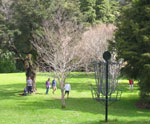 9 baskets for your 18 hole pleasure...
---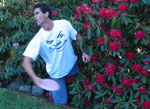 A pretty shot - bad putt though! How many faces can you see?
---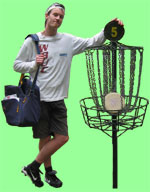 Dylan is always keen for a round or two...when he's not living half way around the world!