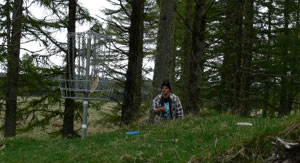 Nice Putt!
-
Cherie Blackburn
(Taumarunui) slings one into the chains in true style. Signs of the determination that comes from a few practice rounds on the Discovery course. Mind you, the less said about that Tuesday round 2 weeks ago in the wind the better!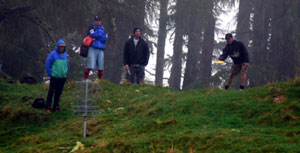 Top Group
- This shot has been enhanced to protect the innocent. No, really, it was so misty as the top group headed out for the final round that players had to sometimes rattle the chains to get a bearing. Here
Dean Marshall
(Tauranga) has a tricky downhill putt on the 5th on his way to a well played 2nd, gaining him second place overall for 2006.
Podium Finish
- No way was
Dave Keene
(Auckland) going to wear long pants - he wanted to make sure those ghastly footie socks were in sight for his top group rivals. Firing a rugged 56 on the final round saw the young fella secure outright 3rd place for the tournament and leap up 3 places in the NZ Tour to finish 5th. Much is promised for 2007 from this lad - but we still have the Match Play Champs to come, where he looks to be up against the Grand Master himself,
Bob Gentil
. Now that will be good!