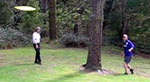 Zoom! Watch Out Len!
Juan Unda does the Mexican Shuffle on 13 - the styley follow-through that ensures good spin on the disc.

KACHING!
No matter how your round is going, a 15m putt that slams into the chains in enough to make any golfer pleased. Here Serf does just that on the thirteenth watched by Juan Unda.

An Ultimate Putt!
It's that man Brendon Love again, this time potting a nice birdie on the 15th. This shot is taken from a vid - Brendon knows how to lay it on for the camera. Good to see you at Taupo Mr Love.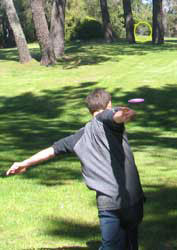 After a day's golf in bare feet, Super Shane turned up on Sunday in sturdy Bata Safemate gumboots! Here he fires a nice straight drive on the 17th. This was a hole where many golfers hoped to get past the tall pines and place their disc close to the pin. And one golfer. 'Ace' Jim did even better with a Hole In One - well done Jim!
At the briefing, we heard some good news from American Disc Golfer Scott Caesar who is now residing in New Zealand. Scott will be organising the 2006 nationals in his home town of Rotorua - disc golf in mountainbike megatown RotoVegas - yeah!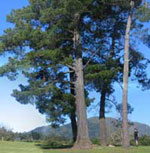 That's Carsen driving on 18. Driving between some tall pine trees, the 18th was a birdie opportunity - if you stayed off the road!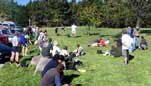 "And starting on hole seven.." Players listen intently as Bob details the agenda for the day. Wonderful conditions and arguably the best course in the Southern Hemisphere, this tournament attracted a record 37 golfers - all happy to be there.