July 2 & 3 Maungakeikei [One Tree Hill] Auckland.
NZDG Tour event number 8


Rock Star - Lumps of Crater rock tell the story [Nice work Jymi] as Simon Feasey plays from the bottom back up to basket 8.

The Freaky Styley Crater Cup is traditionally held on the coldest, wettest, windiest weekend of the year, but the weekend of July 2 & 3 was a reflection of the amazing year we have had weather wise in Auckland as players were greeted with stunning sunny calm weather, it just didn't seem right .. not that anyone was complaining.
For 2011 as is the tradition of the Freaky Styley Crater Cup the overall winner from the previous year has the privilege of hosting the next years event, which includes of course designing the 18 hole course. Oratia Disc Golfer Damian Peters was the host for this year's Crater Cup so it was going to be interesting to gauge the feeling as the players came in after the first round, as most hadn't seen the layout prior to the tournament.
It was great to see 32 players at the Saturday morning players meeting ready to take on 'The Crater'. There was a good spread of players from around the North Island but sadly for the first time we can remember no representative from Taumarunui's 'Lost Tribe' Disc Golf club. Seems there have been a few injuries!
After a welcome form TD Damo complete with a what to expect, beware of the archery briefing and a reminder the Ace Kitty had just hit $500 the 8 groups of 4 headed to their respective starting holes for the shotgun start. Clear skies and dead still .. what a weekend for Disc Golf in this sacred park.
In the ideal condies the first round was done and dusted in just over two and a half hours, unheard of in Crater Cup history, and the general feeling was Damo's course was a cracker. Players loved it, it had it all, raw distance, tight control holes and of course pin placements that could see your drive roll or even fly down a crater leaving you with over twice the distance you had off the tee to get back to the basket. Brilliant!
After a 'business' trip to Europe where he played a couple of events .. coming first in Masters and 3rd over all in the Euro Tours B tier Sula Open in Norway and winning outright the Hebalm Open in Austria by and impressive 10 shots, Simon Feasey was on fire shooting an opening round 48. Next best was Brett Hailstone on 54 and the GM on 55.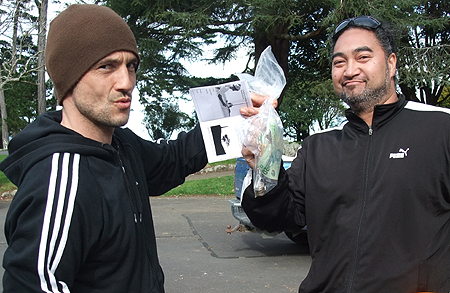 A good day on the course - the $500 Ace Kitty get's handed over by TD Damian Peters to George Huhu after his impressive hammer ace on the 6th.
For the afternoon round the breeze picked up a little from the East which had an effect on the pretty much everyone's scores apart form Oraki Disc Golfer Nigel Hailstone who shot a creditable 55, 4 shots better than Simon and the GM on 59. Although the highlight of the afternoon round would undoubtedly have to be George Huhu's hammer on the 80 metre 6th which saw him pick up the $500 Ace Kitty. Nice skills George!
Sunday morning and the day is stunning for Disc Golf, clear skies with a steady breeze once again from the East and not even a hint of anything wet. Strangely the attrition rate was surprisingly high with seven players not making the 9am players meeting. Rumour has it there was a new member drive on for the Marshall Law No Show club for woosies! Those that stayed though had another brilliant day of Disc Golf on Maungakeikei.
After a short break for lunch the 'Super 6' headed to the top of One Tree Hill to contest the final Safari 6 holes accompanied by a gallery set on watching some 'Crater Cup' carnage. The order going into the Super 6 was Simon Feasey with a reasonable buffer over Damian Peters followed by the GM Bob Gentil, Nigel Hailstone, his bro Brett Hailstone and Levin's Shane Sullivan, making the Super 6 for the first time. The hill had taken its toll on Shane so he decided in the interest of personal health, not to mention the 6 hour drive back to Levin he was happy with 6th and hit the road home early. Can't say I blame him!
The remaining 5 played some pretty golf but at the end of the day the order stayed the same and the amazing 'Freaky Styley Crater Cup' trophies were handed out.
Congratulations to Simon Feasey who played Open, Fiona 'Ming' Menzies who took out the Woman's, Nigel Hailstone the Masters and the GM the Grand Masters.
Also congrats and well done to Damo for stepping up to the plate and running a Freaky Styley worthy 2011 Crater Cup.
blog comments powered by
The Pictures

In the Nick of Time - Local golfer Nick McKay (Auckland) visited the park several times in anticiaption of the tourament with mate Brad Muir. Both players were not expecting the calm conditions that prevailed, but were grateful!


Watch out for arrows - TD Damian Peters briefs the field.


Ladies are up - Bringing good form from rounds in her home town, Karoline Jönsson (Papamoa) fires a nice straight drive on the lengthy 10th.


Champ - It was nice to have Kiwi legend Simon Feasey back on the tour (well nice from the point of view that he's a good bloke, not so nice in terms of everyone else's chances!). Back from a sucessful feew tournaments in Europe (he won an Austrian tournament of 80+ players by 10 shots!!), Simon played a relaxed yet deadly accurate first round for an unbeatable 48.


Relaxed Grip - That's one of the secrets Simon Feasey (Bella Rakha) shared with his group during the first round where he ripped out 7 birdies.


Dean Leans like a Mean Clean Throwing Machine - Dean Marshall sends his drive down the 62m 'short and sweet' hole 17 on the Saturday afternoon.


Its a Long Way There - Little River Band fan Hannah Joynt (Dunedin) shows her strong forehand technique with an arrow-straight drive on the mighty 10th.


Marketing Stone Age Style - JB got to work early.


Pining for a Cone - From the 17th tee, Brad Muir (Auckland) fires a lefty drive watched by Karol, Ben and Jacko.


Lava Layup - Grand Master himself Bob Gentil (Kauri Point) follows up a great drive on 10 to park his disc for an easy putt for par.


Industrious - With the industrial region of Otahuhu as a back drop, Simon Feasey (Bella Rakha) makes use of the calm conditions of Satruday morning to direct his approach on 17 to right by the basket.


The Sky's the Limit - Brightly attired Hannah Joynt (Dunedin) is all focus as she fires her drive uphill on hole 5.


Crater Victim No. 1 - The Crater Course has a reputation for picking on some players. Saturday morning saw poor Chris Ambler (Whangarei) fall victim to this curse. If he didn't get a bad roller, his disc was curving off to the bottom of yet another crater. But in true disc golfing style, Chirs ambled his way around the course with chin up and always ready for a laugh. And it worked, with him scoring a 12 shot improve for the second round.


Stable Table - First time TD Damian Peters gets the rego done as Michael Proctor updates the leader board.


Easy as she does it - Tim Germann making the most of a weekend off Ultimate commitments with an approach on 17 in the opening round.


Tough backdrop - Classic Crater Cup pin placement. First time tournament player Seth de Fontenaysends his up-shot to the basket on the edge.


It's calm here, but what about there - With South Auckland in the background Hannah Joynt (Dunedin) tentatively approaches the target on hole 17 where a sneaky wind would pick up in the afternoon making for some scary deviations of disc flight.


Gallery Practice - Continuing his reign of style, GM Bob Gentil (New Zealand) used the small gallery on hand to hone his focus skills for his trip to the 2011 World Disc Golf Champs in Santa Cruz, USA later in the month.


Don't fence me in - Was 2010 Champ Damien Peters having flashbacks of his 15 on this slope last year? Probably not, as conditions were infinately better. And Dean Marshall was not there.


Frisbee Golf Mad - So mad he lives on a course! Go Damo.


Beanie Brigade - Brett Hailstone (Waiheke) admires yet another fine shot by Bob Gentil (Kauri Point)


Sticky spot - Brett Hailstone (Waiheke) utilises his bag of trick shots to get back up to the 9th green.


Perfect release - West Auckland's Damian Peters putts at the second basket of the Super 6.


Elevated Status - Dr. Proctor! If ya gotta wait on the tee what better place than on top of a historic volcano overlooking the magnificent Waitamata Harbour and the distinctive Ragitoto Island.


Precarious position -. Tim Germann delicately lays-up to basket 8 hoping it sticks and he can avoid a trek to the bottom of another crater.


Icon meets icon - Golf on the magnificent Maungakeikei doesn't get any better than this. Simon Feasey puts out under the gaze of the obelisk!


In the zone Hailstone - Title contender Brett Hailstone gives it all he's got hoping not to have to head to the bottom again.


Lost disc! - After loosing his favourite disc in the trees on 16 Nigel Hailstone makes sure he has his groups attention after heading back to the tee.


Hailstone Sandwich - The 'Super 6' about to take on the Crater one more time. Nigel Hailstone, Damian Peters, Simon Feasey, GM Bob Gentil, Shane Sullivan and Brett Hailstone.


The stunning Crater Cup trophies. Made by one of the original Freaky Styley Disc Golfer Rene Koke.


Good Luck GM - Good luck goes out to Bob Gentil (Aotearoa) as he prepares to fly to the states to compete in the 2011 Worlds in California. With that sure-fire Gentil Lob Putt he's sure to impress!
The Results
| | |
| --- | --- |
| Date | 02.07.2011 |
| Location | Auckland |
| Name | Crater Cup |
| Venue | One Tree Hill |
| TD | Damian Peters |
1
Simon Feasey
M
48
59
54
18
179
50.00
2
Damian Peters
O
56
60
55
22
193
48.42
3
Bob Gentil
GM
55
59
62
22
198
46.84
4
Nigel Hailstone
M
60
55
64
21
200
45.26
5
Brett Hailstone
M
54
66
68
23
211
43.68
6
Shane Sullivan
M
58
66
65
189
42.10
7
Jackson Sullivan
O
62
63
65
190
39.73
7
Joe Fish Seebeck
O
61
63
66
190
39.73
9
Lawton Williams
O
62
61
68
191
37.35
10
Paul Cohen
GM
60
64
68
192
34.98
10
Ariki Spooner
O
62
65
65
192
34.98
12
Jymi Best
O
64
64
65
193
31.82
12
Tim Germann
O
63
66
64
193
31.82
14
Abraham Hartley
O
70
64
62
196
29.45
15
Brad Muir
O
64
62
71
197
27.87
16
Michael Proctor
GM
62
68
71
201
26.29
17
Riki Elston
O
66
76
67
209
24.71
18
George Huhu
O
69
69
72
210
23.13
19
Fiona Ming Menzies
W
70
73
79
222
21.55
20
Jenny Joynt
WGM
73
76
84
233
19.97
21
Hannah Joynt
W
79
72
87
238
18.39
22
Seth de Fontenay
O
90
89
79
258
16.81
23
Marty DeHaas
GM
56
66
122
15.23
24
Siep Van Vliet
O
62
66
128
13.65
25
Andrew Taylor
O
63
67
130
12.06
26
Juan Unda
M
65
66
131
9.69
26
Jacob Jake Mokomoko
O
66
65
131
9.69
28
Conrad Hoskins
O
71
61
132
6.53
28
Ben McEwan
O
66
66
132
6.53
30
Karoline Jönsson
W
70
71
141
4.16
31
Nick McKay
O
72
70
142
2.58
32
Chris Ambler
O
78
69
147
1.00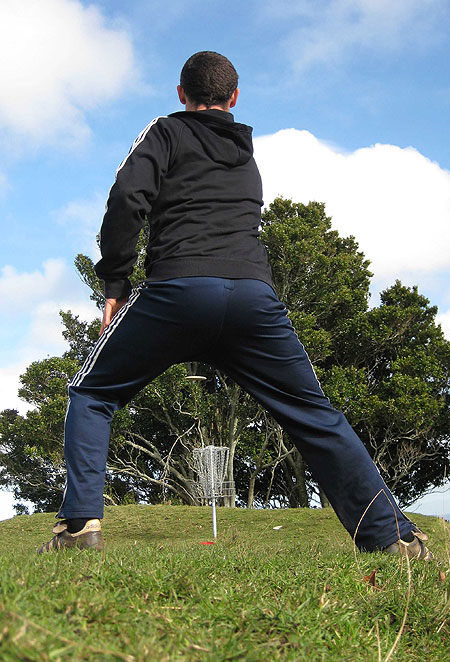 See you next time!