Situated in the Bay of Plenty of New Zealand's North Island, Rotorua hosted plenty of disc golf talent over the weekend of January 15 & 16 2011 for the 2011 Rotorua and North Island Championships.
See the Rotorua Daily Post post-event article - click here.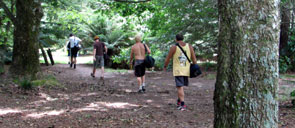 Plenty of shade makes this Rotorua course a great mid-summer disc golf destination.
The Course
The Champs were played on the relatively new Scion Tree Nursery course which - as the name indicates - has a lot do do with Scion, a Crown Research Institute that performs a lot of research on forestry in New Zealand and are world leaders in many areas. As part of their contribution to the community, Scion have kindly permitted a course in a park under their ownership and based on the people we met over this weekend, this generous move will provide a lot of locals and visitors to this tourism Mecca with plenty of good healthy fun. For free! You can keep up to date with the course's development on the dedicated web page here.
Whilst the course has previously hosted 2 National Events, this was the first time the Rotorua Championships were to be held and this year it was the first event on the ever popular New Zealand Tour. It was to be a fairly low key affair with the focus on some great fun out on a fabulous course and getting the word out to the locals that they can play disc golf in this fine town. "We are working to complete the 18 holes course such that the information is freely available to all." commented Tournament Director Gabb. "With funding support from sponsors we hope to have the existing 12 loan baskets paid for by the end of 2011 as well as installing the other 6 needed, along with informational material so everyone knows where to tee off, the general rules of the game and simply get out there and give it a go."
We wish Gabb and his team the best of luck as this is a true gem that we know will become a great asset to the city of Rotorua at a time when disc golf is growing world-wide and the need for Kiwis to get out and exercise is greater than ever.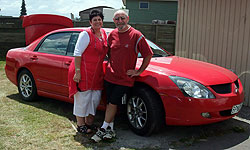 I See Red
- Kiwi Disc Golf personality Pete Boyle and his lovely wife Corryne arrived in style.
The Wind Up
As players began turning up on Friday afternoon, TD Gabb and his trusty sidekick Andrew "Flats" Taylor had already set the course up (the joy of having most baskets already there: many of the Tour events require the disc golf community to transport portable baskets into the venue) and were off for a mountainbike ride, their other favourite sporting pursuit for which Rotorua is world renowned.
The evening concluded with many friends greeting one another for the first time since New Year, catching up on gossip and sharing holiday stories until the wee hours. The generous start time of 9am Saturday morning was appreciated by many, including those traveling in that morning.
Round One - The Foundation
The excitement was all too much for some with Carson out on the course before dawn getting in some practice and breathing in the atmosphere (ah, the sulphur...). But by 9:30 all players were gathered, put into random groups of 4 and 3 and sent on their way for a shotgun start from various tees. Some groups had the daunting task of starting on some tough holes like the 3rd and 10th, but all realised that there is hardly an easy hole on this course!
As the great Fease (and others) has said before "You cannot win it in the first round, but you sure can lose it!". And this must have been in Damion Peters' (Auckland) mind as he fired a steady round with 2 birdies (holes 8 and 10), one bogie (surprisingly on the course's shortest hole 15) and a double bogie on the picturesque 6th. Top seed Dean Marshall (Tauranga) was the one pulling out the shots and despite bogies on the first two hole, he scored 5 birdies to finish the round in front of the field with the only sub-par round of a 1 under 56.
Three players did however manage to shoot par to be just one shot behind Marshall. Dylan Cooper (Austria) was making the most of his holiday in his homeland with a balancing act of 2 birdies and 2 bogies for his 57. Reigning National Champion Blair R Joines (Taumarunui) started the year well by doing the same as Cooper, just on different holes. Joines was reluctant to reveal aspects of his off-season training but we have it on good authority that skinny tyres and lycra were involved. The third player to shoot par was one of Levin's young rising stars Jackson Sullivan. Levin has quickly become a location of keen disc golfers mainly due to the encouragement of veteran (and father of Jacko) Shane Sullivan who first played the game with the legendary Conways from Tauranga some 25 years ago. And Shane has got back into it again - his rivalry with his offspring at tournaments is now a mini battle within a battle, but Jackson is now using his youthful energy combined with a steady head to be a serious contender for a title.
One player that was a surprise omission from the upper ranks after Round One was former National Champ Dave 'Speedo' Keene. As it turned out, the leftie may have pushed too hard on a drive and had torn a couple of muscles in his forearm (confirmed on the Monday). Battling on, the ex-soccer star actually played 3 holes RIGHT HANDED! As we know, lefties struggle with the standard north paw game and it was those 3 holes that saw bogie, double bogie and triple bogie respectfully for a 6 over 63. Some emergency injury management was going to be needed if Speedo was going to gain any decent points for his 2011 Tour campaign.
In the Women's division, top seed from Papamoa Karoline Jonsson (pronounced Ka-ro-line) stamped her authority with a fine 65, placing her 9 shots ahead of Wellingtonian Kiri Thomas-Boon with just one more shot to regular Tour competitor and mother of several disc golfers Jenny Joynt (Tokoroa).
Scores overall were fairly tight so it looked like Round Two would be a defining round of eighteen holes as players consolidated their position whilst others knew they needed to turn it up to have any chance of walking away in contention.
Round Two - The Consolidation
After a lively lunch break that saw Carson out practicing the course, players found out their positions relative to the field via their placement in groups that were now seeded.
The top group got straight into the tough holes starting on the first and Dean Marshall quickly showed that he wasn't planning on sitting back and playing safe just yet. Marshall parred the tricky first and then slotted a magnificent birdie 2 on the nasty second. A string of pars and 2 birdies by the 11th where he scored his first - and only - bogie for the round meant a course record was indeed looking on the cards. The other top groupies were holding on for dear life as Marshall looked a certainty for the overnight title of Twenty Litre.
Meanwhile, back in the fourth group due to his aforementioned injury-plagued 63 was Speedo Keene. But it seemed a bit of strapping and the relaxed group of Levinite Riki Elston (Levin), first timer and local Pete Lodge (Rotorua) and pesky Mexican Juan Unda (Tijuana) was working well for Keene. Starting on the 7th, Speedo was an impressive 5 under by the time they hit the 1st tee with no bogies recorded and a drive on the 15th that could not have been closer to the basket for an Ace. But how would he fair on those tough first 4 that can often crush a good round? The answer was exemplary with pars all the way and with birdies on six and eight, Keene was back in contention with a new course record of a 6 under 51 - the only zero-bogie round of the second round!
Keene's good form rubbed off on his fellow groupies with Unda improving by 4 shots over his first round effort, including a spectacular bomb on the massive 13th for his second to plant his (one and only driver) Eagle under the basket for a gimmie birdie.
Elsewhere on the paddock some equally good golf was being played. Grand Master Paul Cohen (Waiheke) improved 5 shots with a one over 58. His accurate forearm throwing was a strong point of his game on this tough course and his 1 birdie, 2 bogies for this second round demonstrated that.
So as the cards were handed in and bragging rights were gained or lost Dean Marshall had a commanding 5 shot lead over Damion with Jackson one more shot behind, equal with the comeback kid Speedo Keene.
The Putt Off and an Evening of Jovial Banter
With many of the competitors staying at the nearby Redwood Holiday Park, that was the natural location to have the Gentil Sport Putt-Off where Bob put up the choice of any disc from the Gentil Boot Shop. Carson even took time of from practicing the course to join in the fun and before long Dylan Cooper stood tall as the top putter of the evening. Back visiting his homeland from his time in Austria, the Wellingtonian was pleased to have his trip coincide with the chance to experience this course for the first time. And he was in hot form, having performed well in Europe complete with a top title or two.
The festive atmosphere continued with various cooking projects happening around the Holiday Park before more disc golf banter and general frivolities through the evening. This included some players trying desperately to get in the head of Tourny Leader (which soon became known as 20 litre, possibly courtesy of Speights) Dean Marshall, reminding him of some great disc golf crumbles in New Zealand's (and Dean's) disc golf past. We have it on good authority that Dean was hounded late in the night by ogling autograph hunters. In true champion style Marshall politely entertained the fans until his minder Pete delicately ushered them from the room to allow Dean plenty of sleep before Day Two.
Round Three - Turn Up the Heat
A slightly earlier tee-off did not bother the like of Carson who was out there as the sun rose although it did test local Pete to the limit with him arriving to his tee just in time. His partner in crime Blue was nowhere to be seen, supposedly suffering from a mysterious tummy bug.
Now if there is one course that has the potential to break down a big lead in one round, it would be Rotorua with it's tight, long, twisty layout. But Dean Marshall was to prove that he had brought his full thinking game, progressively increasing his lead with well controlled accurate driving that kept him out of any major trouble for the last 18 holes of regular play as others searched for those extra birdies they needed. One by one, the contenders fell further back as those attempts for the special shot resulted in a spot of Makaripi Mayhem, clipping trees or flying too far past the basket.
But meanwhile back in the second group, Dylan Cooper was expanding on his great form to fire the second bogie-less round of the weekend with a fabulous 4 under 53 to catapult him into outright second place heading into the Super Six.
And so by the time the dust had settled, Marshall had actually increased his lead to a whopping 11 shots so chances were that the Super Six would be a battle for the lesser placings - still of importance due to the A-Tier NZ Tour points on offer.
For those mere mortals for whom these 18 were to be their final holes of the tournament, there were some memorable and sadly forgettable rounds. The pesky Mexican Juan Unda stood himself out in the crowd with more than just gaudy clothing - he scored the only 2 on hole 9 for the weekend. If you had seen this bulky amigo's previous form on this hole you would be as surprised as us, but a low drive that just made the pine needles for a skim towards the green set him up for a nice 10m putt into the chains.
Blair R Joines' 57 in the final round secured him the Master's title for the North Island Champs but a playoff was required for the Grand Masters division between Paul Cohen and Bob Gentil (Auckland). A fine 57 in the final round for Cohen set him up well and it took just the one playoff hole for him to take the title. Karoline Jonsson took out the Women's title despite a fight back from Kiri Thomas-Boon and Toby Gentil showed phenomenal stamina to survive the 54 holes for the North Island Junior Champion title for 2011.
Well done!
Super Six - The Best Play The Best
The Super Six has been around for a few years now and has proved rather popular, allowing players and spectators alike to follow the best 6 players from the weekends play. TD Gabb resisted requests from the Six to insist upon them playing the testing holes of 1, 2, 3, 4, 17 and 18.
At 11 shots behind, Dylan Cooper knew he needed a combination of a crumble by Dean Marshall and some amazing golf by himself to have any chance of a major upset. Combination 1 was not looking good when Marshall's drive on the first drew applause as it landed nicely on the dogleg with a straight view at the basket. And Cooper's extra effort at the tee unfortunately resulted in a very bad lie, essentially ending any chances of the title there and then.
Dean further cemented his superiority with an outstanding 2 on the second. His final score for the Super Six was a 4, 2, 4, 3, 3, 3 for 19. Speedo Keene was left thinking 'what if' as he fought the pain and also shot a 19 to earn a great 2nd equal with Damion after 'Damo' shot 20.
The crowd were suitably impressed with these Disc Golf Heroes and Dean Marshall was ecstatic to sup a cold lager from the interim Rotorua Disc Golf Championship trophy and hold aloft the North Island Disc Golf Champion shield for the second time in his career (that's just a guess - ed.)
Congratulations to all players. It was a successful inaugural tournament for Rotorua on a stunning course and we are sure there will be many a great rounds and stories to enjoy over the coming years.
And as the players parted ways until next time, Carson was out there getting in a few more tosses...
---
For inquiries regards the Scion Tree Nursery Disc Golf Course, contact Gabb at rotoruadiscgolf@freakystyley.co.nz or 0220 STYLEY (789539).
CLICK HERE FOR THE MOST RECENT MAP OF THE COURSE (jpeg 1.08Mb opens in new window)- It has 12 baskets installed at present thanks to Simon Feasey & friends, and Scion.
---
<- Click here to download the 2011 Rotorua Disc Golf Championships Super Spreadsheet, an Excel file with every hole recorded and indicating bridies, pars and bogies. You can view the ranking of each hole's difficulty - overall and for each player. Some interesting stuff!
(file is Excel .xls, 72kb)
This file brought to you by Disc Golf Geeks Inc.