No wonder some of New Zealand's finest disc golfers come from this region - the area is all about the outdoors and sport all year round. The locals are reknowned for their hospitality when golfers pass through and is naturally host to one of the New Zealand Disc Golf Tour's toughest 2 day tournaments, the Tauranga Extreme.
McLAREN FALLS PARK
Highway 29, Western Kaimai Ranges, Tauranga [18 baskets] - A National Tour course.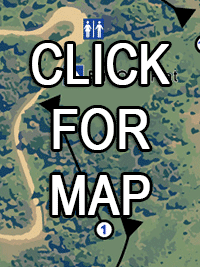 As of 2015 this is a fully basketted course - well done locals!
CLICK HERE FOR MAP (678kb jpg image, opens in new window)
Contact: 022 1213211
Hooray! Our full 18 basket course is now complete. Come play the most demanding course in New Zealand and find out why its called "The Extreme." Pay attention to the winds and be sure to bring plenty of plastic to this course! Sloppy play is not rewarded.
While you play, enjoy some spectacular views from the hills of McLaren Falls Park. Besides the lush views, the park is a wonderful place to visit in its own right, especially in the fall, when the trees are at their most vibrant. For bird enthusiasts, a large variety of native and non-native birds await those whose minds wander from their game.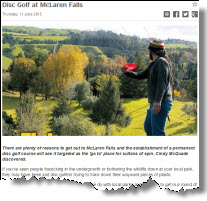 The hard work of regular golfers Myles & John and their trusty crew has seen the sport exposed in mainstream media.
"A newly opened disc golf course at McLaren Falls now gives the sport a chance to fly high on the radar, and an opportunity for serious players to have a permanent course that tests skill levels".
Click here for the full NZ Herald article..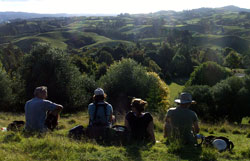 Rolling in the hills - Halfway through the course at the high point, take a moment to take in the view and reflect on why you are so lucky to be playing this great game at this great park..
This course can be punishing with occasional gusty winds, steep hills and nothing there to stop a roller. It's not uncommon for a shot that hit the ground 3 metres from the basket to end up over 100 metres down a gully! There are also challenging tunnel shots, over the tops of trees shots, a few water hazards, fantastic elevation changes, both up and down, and ridge shots that may favour the brave.
Play this course and you'll be pleased to get home for a well deserved rest.
The course starts at the Pin Oak Flats campgrounds. There is also a cabin at the top of the course that can be rented by groups.
Where is McLaren Falls Disc Golf Park?
OMOKOROA BEACH
Omokoroa Beach Reserve (18 objects)
A fun short course the locals play 2 or 3 times a Month. It is located at the Gerald Crapp Histroic Reserve in Omokoroa, about 25kms (30 minutes) drive from downtown Tauranga on State Highway 2.
This is a lovely part of New Zealand and has some very large tree specimens. The Morton Bay Fig tree at the start of the course is particularly spectacular and you are right by the crystal clear water whilst enjoying one of the best climates in New Zealand, this region is aptly called Bay of Plenty.
None of the holes are marked so you will need a local to show you around. Currently has 11 holes but the last 5 can be played twice to extend the fun.
It is a popular walking park on a sunny afternoon so remember to use a spotter to ensure the way is clear.
Local lad Henry Conway is part of the Conway Kiwi Disc Golf dynasty eminating from the Tauranga region and he isn't dissapointing, making podiums finishes regularly now on the New Zealand Disc Golf Tour. It's on holes like Omokoroa's 11th and final that he learnt that deadly accurate forearm drive. Kapow!

Spotters on the 7th at Omokoroa are a good idea when you have the powerful accuracy of Flats Domino. Your local guide Andrew Taylor is very praising of this local pinup boy, attributing his skills to the tricky courses offered in the Bay of Plenty.
Where is Omokoroa Beach Reserve (Gerald Crapp Histroic Reserve)?
YATTON PARK
Greerton, Tauranga [18 objects]
None of the holes or tees are marked, so contact John to show you around.
Contact: 022 1213211
Yatton Park is located off Fraser Street, Greeton in Tauranga. The land has a number of exotic trees - 16 of which are now the largest of their kind in the North Island.
Today the park includes sweeping lawns, a recycling fresh water stream from a garden pool, and perennial flower beds. There is a 10 minute loop track through native bush at the back of the park. From the bottom of this loop the Waimapu Walkway takes you along the foreshore of the Waimapu Estuary with extensive views across to Hairini.
The park is partially accessible to vehicles and is open 8am-8pm spring and summer and 8am-5pm in autumn and winter.
A relatively new course that is always evolving as the locals tweak it to get the most out of the relatively small park. There are now 18 playable holes with some real testing fairways (see 16 largest exotic trees in the North Island).
Locals play this course several times a week. None of the holes or tees are marked. This is a very popular dog walking park so watch your step! Be sure to use a spotter as it can be popular on a sunny afternoon.
Elephant Foot - Clan leader of that Conway dynasty is Jimmy Conway, still showing up despite the demands of his top level junior cricket coaching role. Good dude that Jimmy.

Kaching Ming - Yatton Park is a beautiful park with beautiful people. Ming 'Kaching' Menzies has delighted spectators for many years at the New Zealand Disc Golf Tour and has represented us at the Worlds. Yatton Park is a great training ground, equally rewarding distance whilst punishing inaccuracy.
Where is Yatton Park?