2010 Crater Cup | One Tree Hill, Auckland, New Zealand June 12, 13 2010
Cretin can't stop Batman taking Crater!

In a 'Feaseyesque' display, Damian "Batman" Peters has crushed all opposition in taking open and overall honours in the 2010 Crater Cup. Peters, playing his adopted home course displayed his trademark enthusiasm and accuracy over all distances to begin the super six 7 shots ahead, a lead he was in no danger of conceding. Unless, of course he could be tempted to play the dreaded "peninsular" as he had on Saturday afternoon. Having lead the field by six shots over yours truly at Saturday lunch, he opened his second round at the exposed 13th hole where the wind was gusting over 40 kph. Once a disc had been turned over by the wind and sent to the bottom of the Stardome crater there was a job of work to climb back. Any peek a disc gave nose up to the wind saw it thrown indiscreetly from whence it had come. Which perhaps explains how our tourney leader carded a full 15 strokes on the hole. It merely galvanised him and his 68 round total was a credit to his composure and a signal of his ambition. To show how hard this hole played regular tournament winner Dean Marshall also carded double figures on this monster.
The remainder of the field also found the blustery conditions a challenge with numerous small calamities befalling the players. By the evening stories were being swapped of meteorologically induced travesties destroying otherwise promising rounds. So much so that three leading players on tour had resigned from their endeavours. Due to the embarrassment it may cause, particularly given the unrelenting efforts of SGM Nigel and WGM Jenny, I have decided not to mention they were Pete, Bob and Dean. Adding to the challenge of disc golf played on steep slopes in windy and at times wet conditions was the absence of baskets.
A full contingent of baskets had been placed around the course by midday Friday but three had had their chains stolen by mid afternoon. The obvious candidate for this act of theft and sabotage was the cretin who had pulled a similar stunt last year. Yes, a serial basket busting cretin afoot in the park. An identity picture has been circulated in order that he might be identified and dealt with appropriately.
In light of the expense already incurred and the potential for more, TD Blair Joines made the decision to pull in the baskets. A quick meeting at the de Haas house resolved to play on sticks. So as well as craters, gales and sessions of driving rain, the task of closing out a hole was made more difficult by the need to hit 700 mm of 65mm OD waste pipe atop a garden stake. Oh joy. The most common refrain across the tournament was "that would have been in the chains". At least nobody lipped out.
So come Sunday and a hardy crew gather to contemplate how 14 and sometimes 13 Irishman could match the All Blacks for 50 minutes and why the heavy squalls are unrelenting when the tour visits the Crater. The overnight leader was Marty de Haas one shot ahead of Nigel Hailstone tied with Damian with Michael Proctor a single shot back. The chasing pack hardly closed in on the top group and the Super Six was composed of those players and TD and 2009 champion Blair Joines and Brett Hailstone. The super six was in reality a fight for second place with just five shots separating 2nd and 6th. With the wind still strong it was game on. And so it remained as the six found themselves shooting the final hole. Now three players tied for second. One poor shot with requisite evil roll put paid to yours truly while Blair and Marty shared 2nd and the Masters title. The Grand Masters Title went to Michael Proctor, Senior GM to Nigel Barnwell and the Women's title to Ming "plastic clatter!?" Menzies.
As usual the quest that is disc golf gave rise to the full gamut of emotions from elation to despair. Sometimes both in quick succession as when Andrew Taylor turned, hands stretched aloft, to celebrate having found the safety of the fairway on the 13th only to have the gallery point to his disc which had begun its inexorable rolling plummet to the depths of the crater. Or when Chris Kingsnorth found the green on the 10th only to discover his disc had fallen down a hole and run out to the level below. We also got to witness the stoicism of Women's Grand Master Jenny Joint who had her drive turned by the wind and thrown to the bottom of the archery crater, from where it took quite some shots to climb out. Admiration also for Senior Grand Master Nigel Barnwell who played all three rounds of what he claims is "the hardest course I have ever played". More credit again that Jenny and Nigel B have made it to every tour event this year from Paradise to Onetangi and all points between. Respect. Pleasing also that so many new faces were apparent indicating the sport keeps finding new adherents. And some not so new such as Shane and crew from Levin who told me he had played the Crater some 15 years ago and now he had brought his disc golf crazy son to take on the world's best volcano course. Shane won the familial contest over three rounds by one shot. Respect! And finally a note of appreciation for the design of this course. According to Dean Marshall the course had 4 left hand bias, 4 right and 10 neutral holes and was a test of nearly all golf shots. It, like the tourney, was a beauty.
Post Script

So where was Aucklander Simon Feasey while the impending threat of Damian Peters took the title I imagine some might ask. Representing NZ at the Japan Open. Simon came in 12th overall in the Pro Open Division of 100. A fine effort for a man who plays on casual talent rather than the enormous effort and conviction displayed by many ahead of him. That short list of fully professional players who beat him included some of the greats of our game including, Dave Feldberg, Ken Climo, Avery Jenkins, Nate Doss and eventual winner and 2009 PDGA player of the year Nikko Locastro. Fine work Simon. Now watch out for Damo.
Nigel Hailstone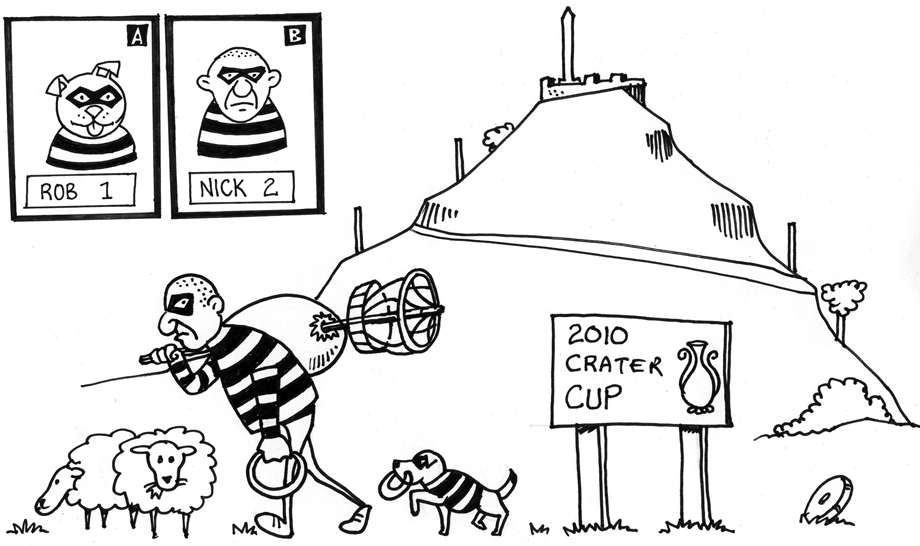 ---
A visiting US golfer even wrote a poem about his recent practice round:
I followed Marty hole one and two
In the wind I backward threw
Wayward tee on number three
Saw me climbing a Kauri Tree
Holes four and five and even six
Really gave me the super sh$%s
As for seven eight and nine
Well I don't mean to gripe or whine
But 3 kilometers up and down
Makes me hate this friggin town
Maybe it's better round the back
Hole 10 has to be…holy crap!
This is a total misdemeanor
To play this hole you need a karabiner
11 isn't any better
And my coat couldn't get much wetter
That Blair fellow, I must have a word
About the 12th it is absurd
Lucky 13th well for some it may
I think this time up I'll lay
14, 15 almost done
Yes this really is lots of fun [not]
A roller that picked up power
And rolled past the Sky City Tower!
16 should be against the law
My legs are limp, my feet are raw
17 just to rub it in
Is more dangerous than Osama Bin
That is it, I've had enough
I don't have to do this stuff
Take eighteen with its 3 foot grass
And shove it up yer Auckland a&*e!

The Crater Course is what it's called
But to me battered, beaten and mauled
I certain won't be very smiley
When I think of Freaky Styley
Those madmen and their plastic discs
And their riding taking lots of risks
I'll go home and to my friends I'll tell
Of the course that was Total Hell