Polo X Grounds Course, Mananui, Taumarunui 23 & 24 April

This is round 7 of the 2016 NZDG Tour and is an event not to be missed. The Lost Tribe will look after you exceeding well [in fact there is every chance you'll gain a kilo or two over the weekend.] Corynne's catering is something special and worth the entry fee before you even get to play golf. The course is easy to negotiate but very testing to play and always attracts a top field.
The weekend schedule.
Friday April 22
4:00pm .. Casual Doubles.
Saturday April 23
9:00am  ..  Late Registration at the clubrooms.
9:48am  ..  Players meeting [Compulsory]
10:00am .. KCC Round 1 [TD Draw]
12:30pm .. Lunch [Provided at the clubrooms]
2:00pm   .. KCC Round 2 [Seeded]
Sunday April 24
9:00am  .. Players meeting [Compulsory]
9:15am  .. KCC Round 3
11:45am .. Lunch [Provided at the clubrooms]
12:45pm .. KCC Round 4
3:15pm  ..  Presentations
Tournament entry $35
Includes NZDG sanctioning, insurance, club room hire, 'superb' lunches Saturday & Sunday and 'ACE Kitty'.
Accommodation.
Contact the Lost Tribe for a place to stay or book into the Taumarunui Holiday Park which is brilliantly situated adjoining the course.
http://taumarunuiholidaypark.co.nz
Please copy, paste and fill out below and send it to TD Pete Boyle pete.boyle@xtra.co.nz
Name
Division
If you haven't played a NZDG event this year then also..
Birth Date
Address
Phone contact
Email
The Pictures
Check out pics from previous Taumarunui tournaments: 2014, 2013, 2012, 2011, 2010 and 2009
Here's some snaps from the 2014 event...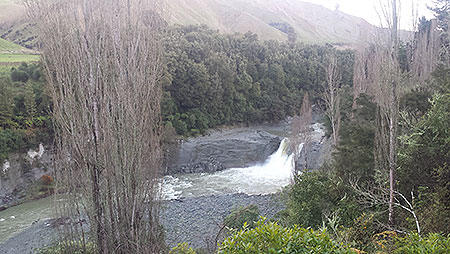 Welcome to King Country - No matter which direction you come from, you start to enjoy that feeling of some awesome New Zealand scenery an hour out from Taumarunui..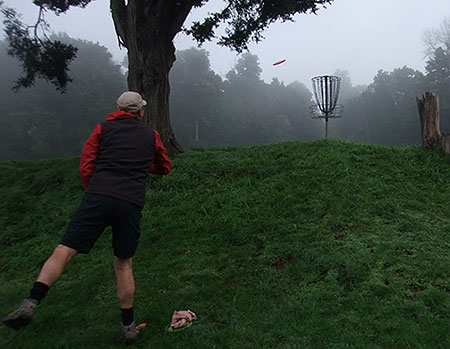 Discs in the Mist - Not a Gorilla, Prez Nigel Hailstone in putting mode at an early stage of proceedings.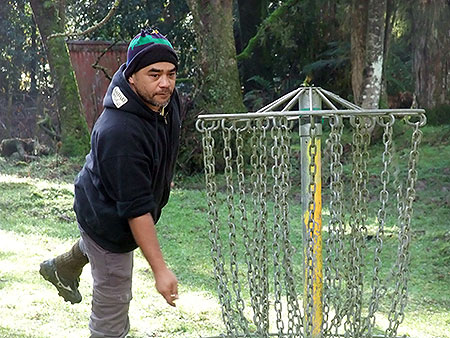 Chain Focused - Wellington's Winston Rawiri is new to the tour but already addicted.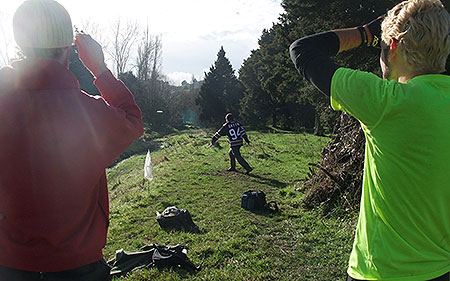 Queenstown Style - Nick and Brady watch Robin Lily drive #3.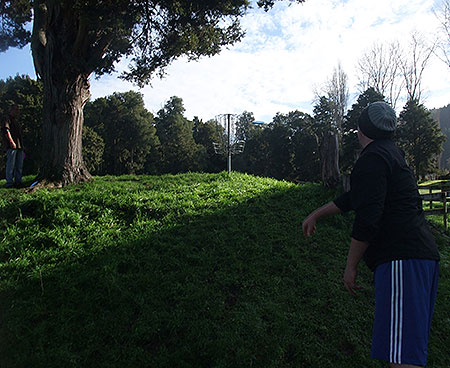 DJ Play - Rotorua golfer Andy George has a crack at the tricky basket placement on #8.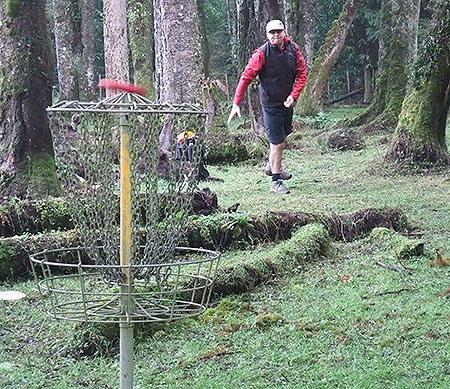 Mossy Masoe - "Don't be low, don't be low" thinks Nigel Hailstone. Bugger! Too high!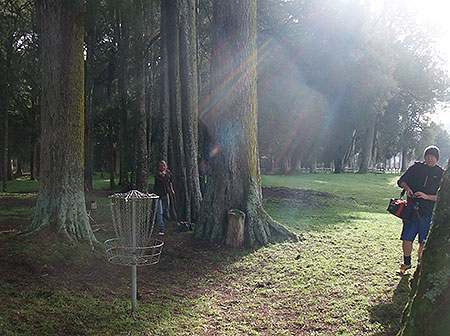 God-like - Des putts from the shade as Andy soaks up some rays.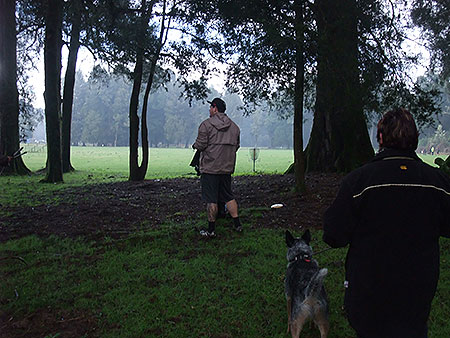 The Jackson Sullivan supporters club - Mum (still contemplating a disc golf come-back) and the Blue Healer.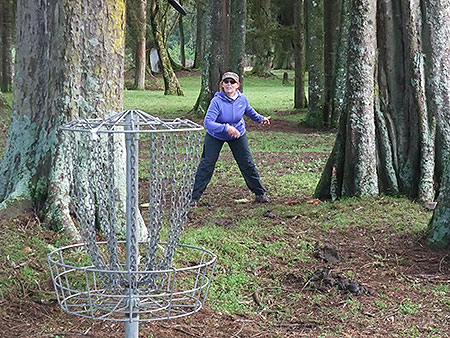 Joyful Addiction - Jenny has a sweet addiction to this awesome sport.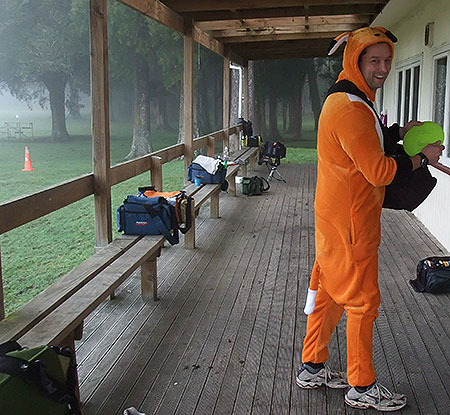 Wild Life - Yep, not to be outdone by the Human Highligher, Sky Highway from Wellington played a full round in this onesy!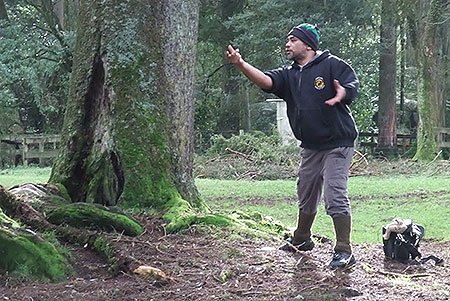 Trunk in Charge - Upper Hutt golfer Winston Rawiri managers his way around the tall timber.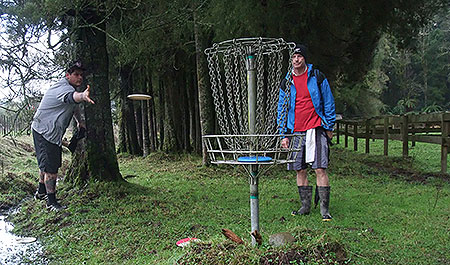 Another Par - Jacko Sullivan slams his putt into the chains on 17 as a gum-booted Juan Unda looks on.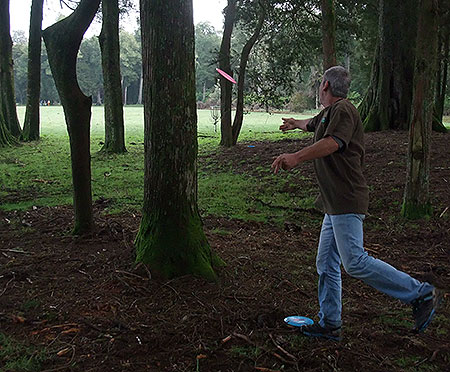 Just don't hit a tree - National Park's Des Cooper winds his way to the basket on #10, avoiding trees of all sorts of shapes includng one looking like De Haas' left hip.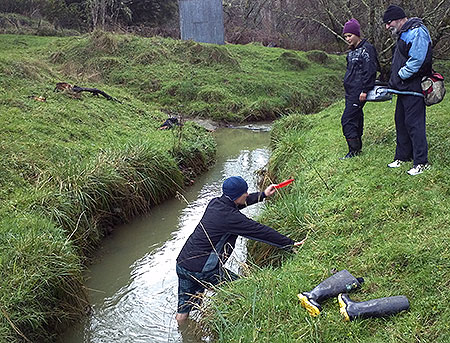 Creeks and Groans - Bugger! Even too deep for the Safemates, Tim Mayson climbs out of the creek to the amusement of playing partners Pete Boyle and Coby Waller.
back to topThe Results for The 2016 King Country Classic
Polo X Grounds Course, Mananui, Taumarunui 23 & 24 April
Who will it be!?!?!