2010 Tauranga Extreme Disc Golf Tournament
May 1 & 2 2010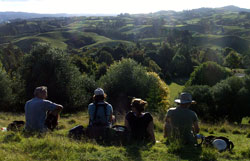 Our Reporter and Photographer at the event Nigel Hailstone tells the story .. in words and pictures.
There is something pleasing to the eye when a collection of deciduous trees readies for winter in a park bejewelled with lakes and vistas. The leaves transform from their verdant normality to blazing showpieces duelling with the sunset. And so McLaren Falls Park is a particularly pretty place to gather for an Autumnal disc golf tourney. Don't be fooled by the beauty. The sadists that designed this course did so on slopes that would make a billy goat giddy. Much of the rough is as yet untrammelled by mere humans. The bogs have swallowed hobbits. Discs vanish like Hanover Finance deposits.
Which makes the 30 odd players that gathered come Saturday May 1 to battle for open and divisional titles of the Tauranga Extreme a hardy (if crazy) group. Conditions were inclement but nothing was to stop the enthusiasts departing to test their arms and legs and spirits after the obligatory briefing from TD Andrew Taylor. The squall affected opening round was to provide excuses for a number of puzzled golfers reporting less than glamorous scores come lunch. The local star Dean Marshall was not one of them and his 57 would have been taken by any of the other players. Except the grinning disc golf phenom and compulsive trophy hoarder Simon Feasey. He came back from his brief absence from our sport in which he admits to having wagged the stick at the little white ball and set up a new manufacturing division, with a warm up 55. Mere warm up it was as after a lunch he must have enjoyed, Simon went out and scored an implausible 2nd round 51. Had this correspondent not witnessed and scored said round himself an eye might have been raised at such deeds. But he made it look easy to play this course and his relatively effortless wander included musings on matters arboreal and technical tips generously offered.
Put in context, by the end of round two Simon had a 12 shot lead and a 16 shot spread to Mario Cerniar sitting in third place. But all was not lost to the chasers as Simon claimed the day 1 outing had strained and pained him and adjourned to some local hot pools. Would he break entirely? Or succumb to permanent full body wrinkling? Day two would tell.
Day two was a stunner. A mere zephyr pushing cotton ball clouds across azure skies set the scene for the players best efforts. The TD pleased the assembled players by advising that contrary to earlier instruction, players could declare a disc unplayable and proceed to a drop zone rather than threaten life, limb and score from over billy goat bluff or down lost hobbits bog. The third round seeding saw Taumarunui's Pete Boyle and Blair Joines, Auckland's Damian Peters and Michael Proctor and the Bay's Brendan Love complete the top groups with Mario, Dean and Simon. Of those Brendan and Michael missed the super six. In fact the spread was so wide between the players that the battle for outright fourth was the only truly live battle in the 'super six' shootout. A two shot swing, the second on the final hole saw Damian prevail. And so there it was. Friendships were made and rekindled, legs and arms wearied, discs lost, found and bought and good times had. As per usual, disc golf (and Simon) was the winner.
Nigel Hailstone