Auckland Golfer Nigel Hailstone tells the story.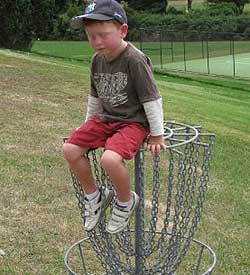 What to do about a problem like Simon?
That was what all the title pretenders were left to wonder by lunch on Sunday of the Waiheke Island Classic. Once again the Super Six playoff was reduced to an opportunity to shuffle the minor placings as Simon Feasey demonstrated how to destroy a golf course on a Sunday morning carding a staggering 44 including an ace and a back nine completed in 20 shots. But of course that was in the future as a field of twenty gathered at the Onetangi Sports Ground to open the NZ Disc Golf Tour for 2010. Conditions were benign on Saturday morning or at least the wind wasn't blowing on this, the country's only links course. Typically for January on Waiheke Island, humidity was pushing 100% and the temperature was closing in on 30C as play got underway.
The first round saw familiar names topping the leader-board with the aforementioned Feasey posting 50. Only the 53 of TD Brett Hailstone bettered 55 amongst the rest with players seeking ice and shade at lunch. Also requiring ice was the disposition of Siep van Vliet who had to advise the TD that he had led not one but two groups of three players to play an incorrect basket. Although the mistake was rectified on the course after advice from another group, a penalty of two shots had to be added to all six players' cards.
The second round saw general improvements in scoring as Dave Keene posted a 51 bettering the 52's of Brett and Simon. Jack Turner also forced his way into contention with a 54. The day had been long and hot already so there was nothing for it but to retire to the evening magic of Onetangi beach with its cooling waters. Once refreshed and a session of beach cricket having been disposed of, the contingent of ultimate throwers put on a display of TRC and MTA of impressive dimensions, the nonchalance of Sheriff Ibrahim being a particular crowd pleaser. So much so that as evening fell some of the Onetangi locals reciprocated with a display of their own burning their way through 10 minutes of fireworks. Also commendable was the BBQ put on by the TD. A collection of the largest mussels most had ever seen and copious amounts of snapper, both freshly extracted from Onetangi Bay by the TD and helpers was beyond the considerable appetites of the attendant crowd.
Fully sated and refreshed battle resumed on a blessedly overcast Sunday morning. Clearly the fun and feasting of the previous night had been to Simon's approval and his morning performance was akin to a master class with his 44 a new course record that will take a hell of a lot of beating. The super six was marked by the frustrations of Damien Peters who discovered the ever present plastic appetite of the gorse and the comical countenance of Marty de Haas who, needing only a nineteen shot turnaround to take the lead, attempted to ace every hole (don't we all Marty?). Jack Turner also wowed the gallery with his left hand finger dancing antics resembling something between a Maori dance gesture and a Klingon's digital death flutter. Watch out for it people, it could be the next big thing.
Walking away with award winning local wines from Passage Rock and Stonyridge were divisional winners including Ladies Jenny Joynt, Senior Grand Masters Nigel Barnwell, Grand Masters Marty, Masters Brett. The Open and Overall Champion Simon, for four years running now, retains his grip on the coveted Two Taniwha trophy.
So fellow disc golfers, the bar has been set high for this upcoming year of golf. Outstanding talent and good times have already been witnessed and enjoyed amongst a very happy vibe. And might I add, at $15 all inclusive (that's right, an all you can eat seafood feast was included!) that has got to be some of the best value entertainment money can buy.
Ahh, Disc Golf Island style.