New Zealand's Black Caps Cricket Team Play Disc Golf
The connection was 'Air Conditioning'.
Many times New Zealand Disc Golf Champion Simon Feasey and his company Safe, HRV the new Black Caps Sponsor led the Black Caps side to a Disc Golf course and lunch venue at Simon and Yvette's property Bella Rakha at Oratia in Waitakere City.
The plan was for a few of the Auckland Golfers to help the Black Caps and HRV staff and entourage make their way around the beautiful course in Simons back yard. Nigel Hailstone [a cricket fanatic], Damien Peters [a DG fanatic] and the GM [just a fanatic] all volunteered their services and had a most enjoyable day.
When the team bus arrived at 10 pretty much all of the Black Caps squad came off it all keen to get into the game. After a briefing from Simon and a few practice throws for the cricketers we headed to the course, followed by the ever present television cameras and reporters.

"And you want to keep the run rate up..." - Simon Feasey explains the finer points of Disc Golf to the Black Caps and HRV invitees..
The 'Pro's' were based on a few of the nasty holes around the course where they drove ahead of each foursome .. to a: show how it's done and b: each pair had the option of using the Pro's Drive .. but .. they could only use so many in their round.
It was a great format and we were impressed at how quickly the cricketers caught on, but not too surprised that were some naturals who instantly took to the game.
Following the Disc Golf there was a superb catered lunch and a chance to sit down and chat to some of our sporting greats.
Brilliant day!!
Pictures


"You - Martin, Stay Awake at the Back! And what's so funny Oram!?" - Like any young athlete, the Black Caps were just keen to get out there and try it. And they didn't disappoint..


Heading into the Back Nine - A stop at the Freaky Styley Clubhouse after nine holes sees golfers reenter the fray with that extra boost of confidence. Confidence that can quickly be shattered by the narrow 'tunnel' fairway of the 10th.

Crouch, Hold, Engage - hang on, that's Rugby. Anyway, like any sport, disc golf benefits from a fit body and an understanding of body dynamics not to mention plastic dynamics. The Black Caps showed that, as top level athletes, they were up for it. And if the frisbees had been made of leather, they probably would have understood the flight even better! Here Tim Southee shows the same sort of control he has been showing in his bowling against Australia this season.


Two Champions - we are not sure which sport these two champions (Simon Feasey, Disc Golf left - Daniel Vettori, Cricket right) are discussing. Perhaps it is a combination of the 2 sports. "So you chuck the frisbee wherever you like and then run like buggery" "Yeah, and the fielding team have to recover and chuck the disc back to the Chuck Zone - that is if they don't make an awesome diving catch." "Yeah, and we'll call it Maxx Disc!"


Putt One - yes! yes! NO! [unknown] so close putting to one of Simon's newly designeed (and very styley) baskets.


Putt Two - it's almost like a free hit. And Brent Arnel takes advantage by hitting it to the boundry...I mean hitting the putt for birdie.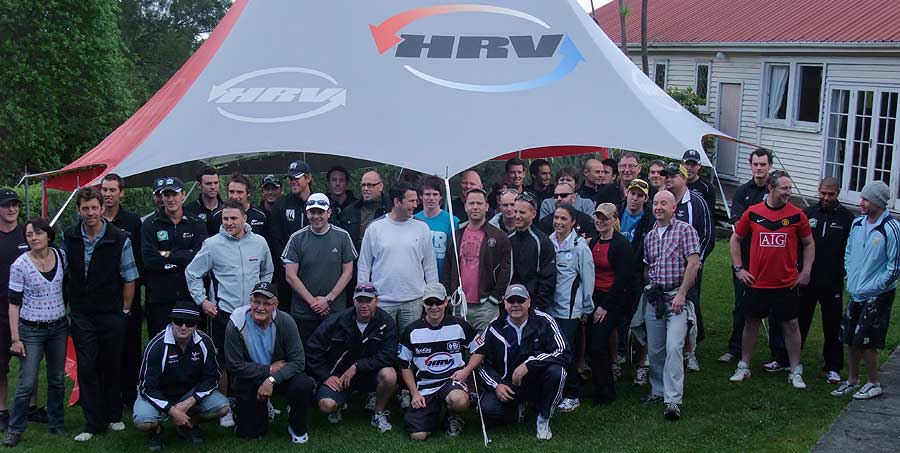 Thanks Simon! - it was evident that everyone enjoyed themselves almost as much as a last over win against Australia.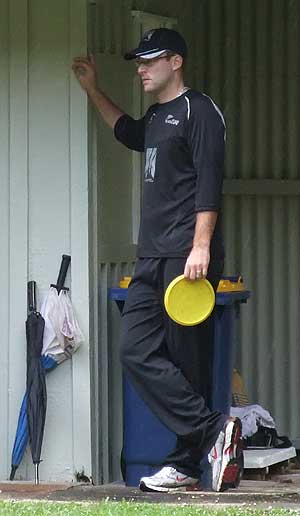 Penny for your Thoughts? - "OK, so Simon said that a good spin is important. I can do that. Spin. Yeah, I can do that..."